10 Questions to Ask Before You Buy Land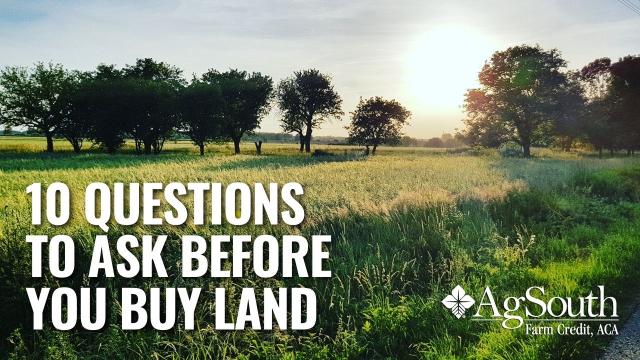 Buying land is a big purchase! It is important to make sure the land you are buying is your dream property. Ask yourself these 10 questions before you make your offer!
10 Questions to Ask Before You Buy Land
1. What Utilities Are Available for This Property?
Determine what utilities are available from the county (power, water, sewage and gas) and what utilities you may need to make arrangements for. You may need to be prepared to drill a well, install a septic system or purchase a gas tank and install a gas line. There could be restrictions on where a home may be located on the property based on where the well and sewage systems can be located. Find out who the state provider or local electric membership cooperative (EMC) is for the property. If power is not already available, talk to the company about the cost of running power to the property and the location of your future home.
2. Is the Land Buildable?
Soil type affects the ability of the land to support a septic system. A soil percolation test determines the rate at which water drains through soil. A perc test is required by most county health departments to determine whether a property is suitable to hold a septic system and what type of foundation a home will need. Soil that does not pass a perc test could mean high costs for preparing the site to build on or mean you cannot build at all. Your county or district environmental health office should be able to perform this test at a low cost. Additionally, if the property is sloping or has elevation changes, this could affect your ability to build.
3. Is the Property Easily Accessible?
Determine the nature and extent of access to the property. Property must have both physical and legal access to obtain financing and ensure future desired use. Physical routes should be present and free of obstructions. If access is limited, check if the county will grant access and, if so, from where. Does the parcel front a publicly-maintained road? Does the parcel have a deeded right-of-way across adjacent land? Legal access includes access points coming from permissible frontage roads (ex. no driveway off of a bypass) and has legal crossings over land formations such as creeks and swampy areas. If you intend to build, check the municipal requirements for road frontage on a publicly-maintained road.
4. What are the Property Lines and What's Going on Around the Property?
Obtain a survey of the property to know where your property lines are. Most banks require a survey in order to finance the land. A survey may be on file in the county deed records; if not, have a survey performed so you have a record of what you are buying. Next, use the survey to try to locate the property lines. Lines could be marked with concrete or wooden markers, paint marks on
trees or posted signs. If lines are not clearly marked, have a surveyor permanently mark the lines. Additionally, find out what is happening on the property around you. Are there plans for development? Are you next to a farm or other business? Know what to expect should you buy and move to the property.
5. What Does the Land Look Like in Person?
You may think you have found the perfect property online, but make sure you visit the property before you buy. Is it the right distance from town or the right type of road? Does the drive to or entrance to the property look the way you envisioned? How far away and what do the neighboring properties look like? Walk the property with the owner. Ask about history of the property's use, when timber was planted (if applicable), how old fixtures on the property are, if any, and if the land is in a flood zone. Look for areas that are wet, steep or eroded. Ask: Is there a high area to build on? What is the state of any ponds or streams on the property? If you want to build a pond, is there a low area that is suitable?
6. What are the Zoning and Ordinances?
Knowing what use your property is zoned for (residential, commercial, agricultural, etc.) not only affects the value of the land, but also what the land can be used for. Do you want to build a house, shed, barn, fence, etc., on your land? Zoning, covenants and ordinances may come with square footage requirements for a home, types of structures not allowed, boundary setbacks or rights-of-way requirements. Some properties have specific covenants set by the seller or previous owner. Since land use restrictions vary by location, check the zoning, ordinance, and covenant requirements prior to purchasing so you will be informed about what you can and cannot do with your land.
7. What are the Annual Property Tax Obligations?
Property taxes on most land are calculated using market value, which is based on how the land is zoned. Property zoned as agricultural typically results in lower taxes. To be zoned as agricultural, land must meet minimum acreage, current use, land composition and state requirements. Check how your land is zoned and/or apply for rezoning at the county tax assessor's office. In North and South Carolina, be aware of the Rollback Property Tax. In South Carolina, if the property was previously zoned ag, the county can go back 5 years and bill you for the difference in taxes paid when it was zoned ag and what taxes would have been if based upon current zoning. In North Carolina, a taxpayer can be charged the difference for the past 3 years plus interest. To avoid the Rollback Tax, you may apply for re-zoning as agricultural, if possible.
8. What Additional Costs Could Be Necessary to Prepare the Land for Living?
In addition to the purchase price of the land, you may need to be prepared for extra costs associated with preparing your land for its intended use. Some additional costs that may be needed could include drilling a well, connecting to or installing a septic system, running power to the property, clearing land, road/driveway construction, grading for construction, permits and fees for well, septic, building, driveway, etc. The cost of each of these varies based by county and state. Doing your research on the approximate costs of the infrastructure needed on your land will help you prepare for your land purchase.
9. Does the Timber Have Any Value?
If you are interested in cutting timber on the land you buy, find out if the timber has value. The minimum size for a merchantable timber tract is typically 25 acres. Value is affected by size and type of timber and accessibility to timber mills and loggers. A forester can determine the current value of standing timber by performing a timber cruise. Foresters have knowledge of area mills and loggers, can help you assess costs of harvest and make recommendations on how to manage the stand for future harvest. To find a forester, contact your state environmental agency, the Association of Consulting Foresters, the Georgia Forestry Commission, the North Carolina Forestry Commission, or the South Carolina Forestry Commission.
10. What are Your Plans for Financing?
Although the process of purchasing land is similar to a home mortgage, down payments are typically higher (15–20%), interest rates are higher and terms are shorter (15–20 years). Work with a lender that understands the unique process of land transactions and can guide you through the process. Some banks cannot lend for raw land purchases, so find a lender ahead of time. Consider getting pre-qualified and prepare documents (balance sheet, tax returns, etc.) so once you are ready to make an offer, the process can move smoothly and quickly. If you are looking for a lender that specializes in land financing, contact AgSouth Farm Credit to discuss your needs.
Questions?
If you're interested in buying land in South Carolina, North Carolina, or Georgia, one of our local loan officers would be more than happy to help. Find an AgSouth Branch near you!
Not in South Carolina, North Carolina, or Georgia? Find your Farm Credit Association.