Have a Voice in Your Cooperative
2023 Annual Stockholders Meeting 
This year's Annual Meeting will be held on September 6, 2023 in Greensboro, North Carolina. Immediately after the Annual Meeting, all eligible stockholders will be mailed and emailed (if on file) a ballot to participate in the cooperative process directly from their homes. Participation/attendance in the in person Annual Meeting is not required to vote. 
In 2023 the following seats are up for election:
- Region 4 Seat 2 - Five Year Term 
- Region 5 Seat 2 - Five Year Term
- Region 5 Seat 3 - Five Year Term
- Region 6 Seat 1 - Four Year Term
- Region 6 Seat 3 - Five Year Term 
To be eligible to stand for election for a particular seat, the voting stockholder must reside in the nominating region corresponding to the seat. The nominating regions by county are set out below: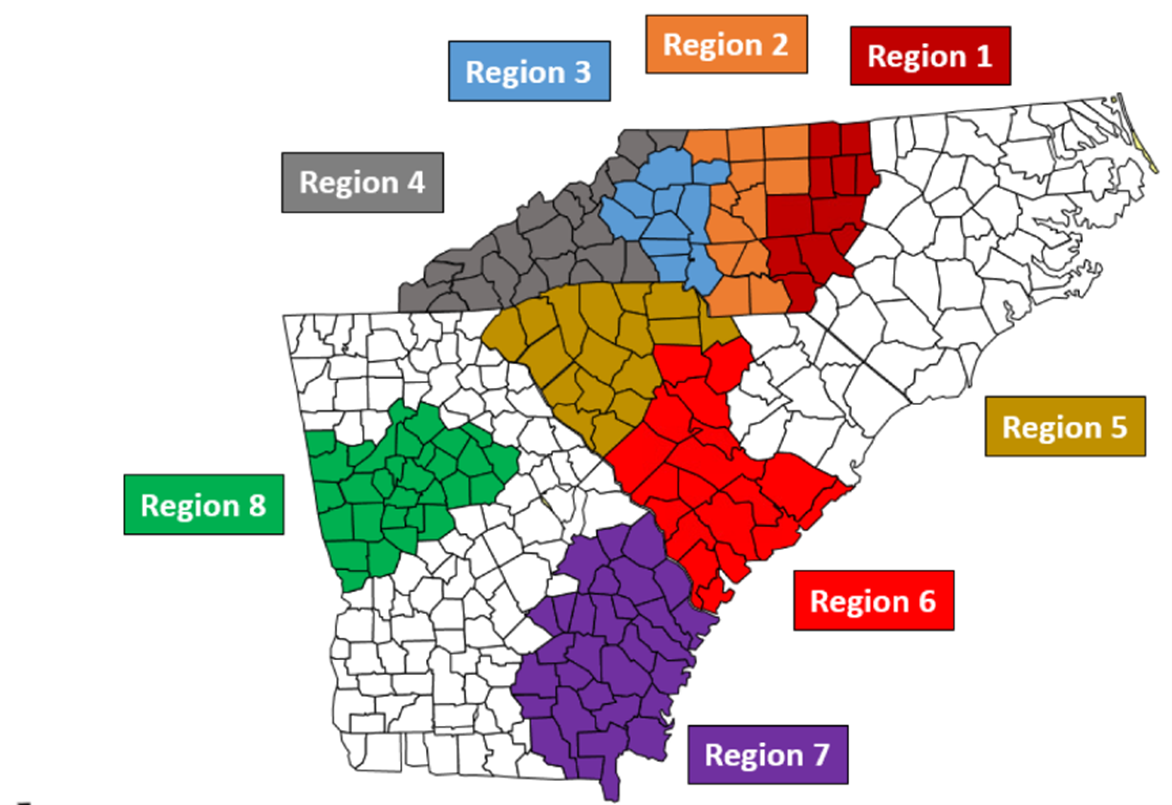 View Counties by Region

Region 1-NC: Alamance, Caswell, Chatham, Durham, Lee, Montgomery, Moore, Orange, Person, Randolph, Richmond

Region 2-NC: Anson, Cabarrus, Davidson, Davie, Forsyth, Guilford, Rockingham, Rowan, Stanly, Stokes, Surry, Union

Region 3-NC: Alexander, Burke, Caldwell, Catawba, Gaston, Iredell, Lincoln, Mecklenburg, Wilkes, Yadkin

Region 4-NC: Allegheny, Ashe, Avery, Buncombe, Cherokee, Clay, Cleveland, Graham, Haywood, Henderson, Jackson. Macon, Madison, McDowell Mitchell, Polk, Rutherford, Swain, Transylvania, Watauga, Yancey

Region 5-SC: Abbeville, Anderson, Cherokee, Chester, Edgefield, Greenville, Greenwood, Lancaster, Laurens, McCormick, Newberry, Oconee, Pickens, Saluda, Spartanburg, Union , York

Region 6-SC: Aiken, Allendale, Bamberg, Barnwell, Beaufort, Berkeley, Calhoun, Charleston, Colleton, Dorchester, Fairfield, Hampton, Jasper, Kershaw Lexington, Orangeburg, Richland

Region 7-GA: Appling, Atkinson, Bacon, Brantley, Bryan, Bulloch, Camden, Candler, Charlton, Chatham, Clinch, Coffee, Effingham, Emanuel, Evans, Glynn, Jeff Davis, Jenkins, Liberty, Long, McIntosh, Montgomery, Pierce, Screven, Tattnall, Toombs, Ware, Wayne, Wheeler

Region 8-GA: Butts, Carroll, Clayton, Coweta, DeKalb, Douglas, Fayette, Fulton, Greene, Gwinnett, Haralson, Harris, Heard, Henry, Jasper, Lamar, Meriwether, Monroe, Morgan, Muscogee, Newton, Oconee, Pike, Putnum, Rockdale, Spalding, Talbot, Troup, Upson, Walton
 
Official 2023 Annual Meeting Information Statement
Get to Know This Year's Candidates
Read the 2022 Minutes of Annual Stockholder Meeting - AgSouth (Pre-merger)
Read the 2022 Minutes of Annual Stockholder Meeting - Carolina Farm Credit (Pre-merger)
Questions?
For questions or more information about the Annual Meeting contact Bob Mikell at 912.764.9091.