2020 Annual Meeting Going Virtual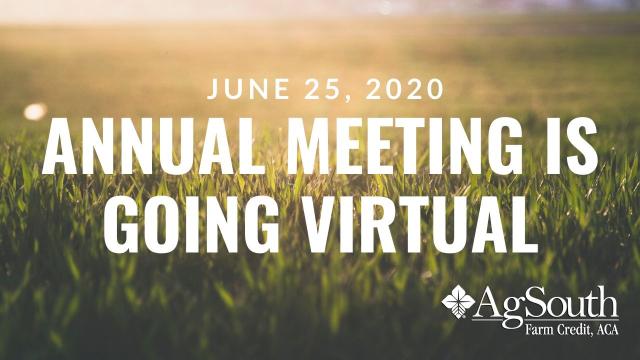 Statesboro, Ga. (June 25, 2020): AgSouth announced today that the 2020 Annual Meeting is going virtual this year. Members can attend the meeting via teleconference, and eligible voting stockholders will have the chance to vote by mail-in ballot or online. 
2020 Annual Meeting Announcement  
The Annual Meeting is going virtual this year.
In today's uncertain times, AgSouth is making it easier and safer for all of its members to continue to participate in the cooperative process directly from their homes. Therefore, the 2020 Annual Meeting will be conducted live online through teleconference.
The Annual Meeting Information Statement will be mailed out to borrowers with information on the candidates and instructions on how to vote. After the meeting, Eligible Voting Stockholders will be mailed a ballot that can be returned in a self-addressed stamped envelope, or conveniently completed online. 

We hope that you will support your cooperative by lending your voice to the process.
###
---
About AgSouth: AgSouth Farm Credit provides loans for land, equipment and production agriculture; crop insurance; leasing; and home mortgages. The Association serves 93 South Carolina and Georgia counties and is headquartered in Statesboro, Ga. AgSouth is an equal housing lender and an equal opportunity provider.