4 Ways Your Local Extension Agent Can Help You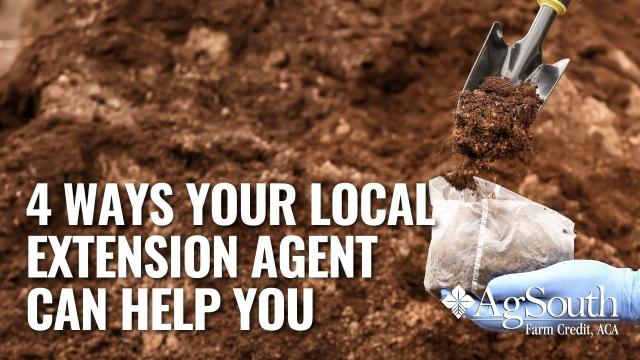 Article Takeaways:
Extension Agents serve more than just large acreage owners or full-time farmers.
Soil tests are a simple and low cost way of getting recommendations on how to keep your soil healthy for your desired goal, whether it's for your personal garden or farming operation.
Property visits are a popular among farmers for pest control recommendations and also among landowners for pond management and landscaping advice.
Extension agents help foster youth development and support families and communities through various programs like 4-H and Family and Consumer Science Programs.
Find your local agent.
Extension Agents have been serving rural communities for over a hundred years, and their work is just as important now as it was then. According to UGA Extension Agriculture and Natural Resources Program Coordinator Amanda Tedrow, "in the past, Extension was more directed at only commercial producers, people who had large acreage or pastures and crops. Now, we also serve small landowners and also urban audiences." Extension programs have had to adapt to the ever-changing needs of citizens across the country.
The role of a county extension agent can vary from state to state and county to county. What remains the same is that the goal of all extension agents is to help the people in their communities in whatever form that may be - soil tests, livestock assistance, or even helping local farmers with planting recommendations.
Popular Extension Services and Programs
Most people have heard of Extension, but may not know what services are offered. Extension [so named because it is an EXTENSION of a land grant university such as UGA, Fort Valley State, Clemson, and SC State] is unique in that you can receive non-biased, research based recommendations on your plant, crop, and livestock questions because there is no financial benefit to the organization.
Below are some of the most utilized services that most Extension offices offer:
1. Soil Testing
One of the most popular services extension agents provide landowners are soil tests. Testing is recommended for all property owners. These tests can help farmers ensure that the crops they are wanting to plant have adequate soil for growth. Common soil tests can be for Bermuda grass, cotton, deer plots, and even home vegetable gardens. There are about 100 different crops that soil tests can be analyzed for.

The process of getting a soil test is very simple and low cost. Once the sample has been processed, you will receive fertilizer recommendations to make your soil the healthiest it can be for your desired needs.
2. Farm & Property Visits
Extension agents provide free consultations to help you solve a problem you are having or offer advice.
Many farmers use their extension agents for insect, disease, or weed diagnosis on their crops and then rely on them for pest control recommendations. Agents are also helpful in recommending crop varieties to plant in specific fields. Agents will often have research trials on local farms to help them determine best practices for the farmers in their county/area.
Landowners can also utilize extension agents for pest, forest and pond management questions. Especially in more urban areas, agents are familiar with gardening and landscape challenges and can offer advice for your home garden or yard.
3. 4-H Youth Programs
4-H is the youth development program for Extension. 4-H is offered in every state and its mission is to "give all young people access to opportunity." There are many different activities for youth to get involved with 4-H including agriculture, healthy living, and civic engagement programs.
4. Family and Consumer Science Programs
Some extension offices offer family and consumer science programming which provides educational resources for families and communities. Specifically, this could include nutrition, food safety, financial management, and healthy living.
How to Contact Your County Extension Agent
Extension is a valuable resource to people across the country- especially to farmers and landowners. Tedrow explains, "Extension agents are here to help-no question is too small or too big." To contact your county agent, simply follow the links below. Choose the county you reside in, and feel free to email or call the county agent about your land and farm needs.
South Carolina
SC State 1890 Research & Extension

Contact Associate Extension Administrator, Edoe Agbodjan, at eagbodjan@scsu.edu or 803.516.4750
Georgia