6 Things to Know Before You Build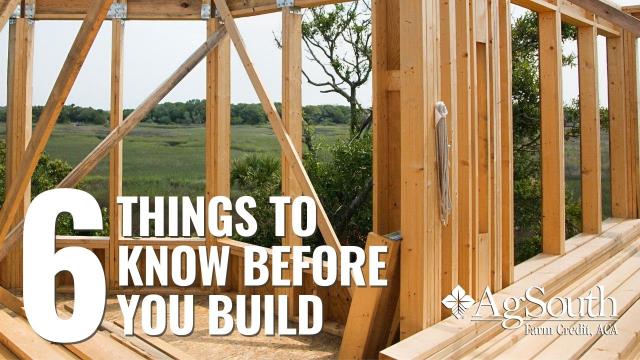 Here are 6 things we've found to have helped our customers over the years before they started their home building process!
Key Takeaways:
Spend time finding the right builder.
Setting a budget is essential.
How much space do you really need?
More isn't always better.
Where do you want to be in 10 years?
Communication with your builder is key. 
6 Things to Know Before You Build Your Home
If you're reading this, you've probably spent some time considering whether you should buy or build your home. If not, we suggest using our Buy or Build Guide to weigh your options. Whether you're still searching for the perfect property, or you own land and are finally ready to build your dream home, there are a few things you'll want to know if this is your first time building.

Similar Articles: Top 5 Best Practices in Making Your First Land Purchase
1. Finding the Right Builder May Take Some Time
When searching for the person or business that's going to be building your new dream home, you want to make sure you take ample time to find the right one. As funny as that sounds, you have to remember that you're going to be spending a lot of time with your builder over the next several months. There will be lots of phone conversations, texts, emails, and in-person meetings with your builder, so you want to make sure to get to know him or her before officially deciding. The first builder you meet might be the perfect one or you may have to interview a few to see which one is right for you. Just remember, it may take some time. So don't blow past this step, as it's very essential to making your home building process smooth and hassle-free!
2. Setting a Budget is Essential
One of the most important and beneficial things you can do for yourself, and the builder you've selected, is to set a budget before going into the first meeting. Setting one doesn't mean that you can't deviate from it, but having one in mind before everything gets started is going to be very helpful in the long-run. This one's a biggie and directly ties into the next thing you should know before you build, which is to know how much room you're going to need. 
3. Having an Idea of How Much Space You Want is Equally Important
When setting your budget, you'll also want to figure out how much overall space you're going to need. Things to consider include the number of bedrooms and bathrooms, the size of your new kitchen and living space, if you're going to include an attached or detached garage, and the amount of closet space you'll need.

If you have no idea where to start, there are hundreds of floor plans online that you can sift through according to the size and style of your choosing. If you find and purchase the plan you want, take it with you when meeting with your builder. If you don't have a specific plan, bring some general ideas of what you want and your builder will work with you through the process of creating one. Just remember that the square footage of your new home is going to directly affect your budget and final price.

Keep in mind that that the more unheated square footage you add to the home, the more your cost could go up, but your appraisal value may not. For example, a 1,500 square foot wraparound porch could push your budget up significantly more than a small 500 square foot front porch.
4. More Isn't Always Better
Just as more unheated space could raise your total budget, adding in unique customizations such as a marble fireplace or an outdoor kitchen area can get pricey. But when it comes to the appraisal, the handcrafted marble fireplace and state-of-the-art outdoor kitchen may not actually increase the value of your home. This could translate to higher out-of-pocket costs since your loan amount is based on the appraised value. However, this doesn't necessarily mean that later down the road, if you choose to re-sell, a buyer won't see the value in it.
5.  Considering the Future is a Smart Move
Whether this new build is going to be the home you live in for the rest of your life or you're only planning on being there until the kids are moved out and at college, try to think ahead. So when you're in the process of selecting how many bedrooms or bathrooms to include in your new home, try to think about what your life's going to look like in the next several years and what you may end up needing. Something else to keep in mind if you're planning on eventually moving out of this house is how your customizations of it will affect re-selling later on. You can't predict the future, but you can plan for it!
6. Communication with Your Builder Will be Key
As mentioned before, picking the right builder is going to be vital for the building process of your new home to run smoothly. However, even if you select the perfect person or business, and you've got everything planned out, problems with the actual building of the house can arise. Therefore, the flow of communication between you and your builder, and vice versa, is going to be key every step of the way, especially when a change needs to be made and your budget could increase because of it. Building a new home is a detailed process and you want to make sure there is good and steady communication between both parties!  
 
Ready to Get Started?
We hope this information is helpful in prepping you for your next adventure. If you're looking to build your home in South Carolina or Georgia, one of our loan officers would be more than happy to help. Find an AgSouth Branch near you!

Not in South Carolina or Georgia? Find your Farm Credit Association.