Active Military Couple Hobby Farms Near Columbia, South Carolina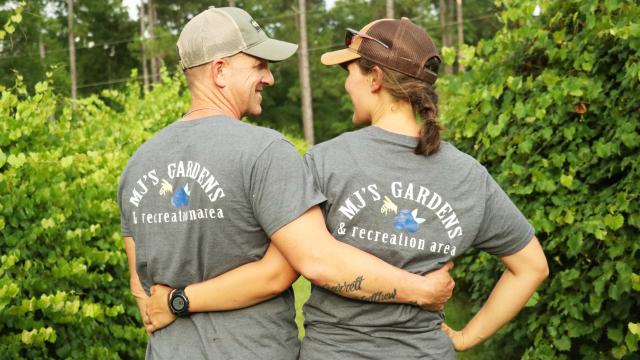 MJ's Garden and Recreation Area is simply "a little garden or two and a place to hang out" according to Mike and Jess. Read their inspiration for their small blueberry farm here. 
Standing in the gravel driveway, surrounded by every shade of green imaginable, you would never know that McEntire Joint National Guard Base is just 2.5 miles down the road. For Mike and Jess, this was the perfect spot.
Both active in the South Carolina National Guard, MJ's Gardens and Recreation Area is not only close to Mike and Jess's full-time jobs, but only 30 minutes from the thriving metropolis of Columbia, South Carolina. Their dream of turning this forgotten farm in to the perfect daytrip for their surrounding communities both started with an unconventional way of eating. 
Inspiration for MJ's Garden and Recreation Area

Jess's Junk Food in Missouri
Like most people growing up in the early 90's, Jess ate the typical American staple foods – pizza, fast food, spaghetti-o's. Her mother was a single mom working full-time in the military raising two daughters just outside of St. Louis. They didn't think much about the foods they were eating.
 
After she moved out, her mom decided to switch to a pescatarian diet upon researching health issues her current way of eating might cause. It took a few years but Jess ended up following her mother's footsteps after she realized she was overweight.
 
Often times it takes trial and error to figure out a new lifestyle. A common misconception among many is that yo-yo dieting is bad and should be avoided at all costs. Although there can be some short-term physical repercussions from cyclic weight loss and weight gain, the benefits of figuring yourself out can be more positive in the long run for those that embrace their failures and enact real change. And that is exactly what Jess did.
 
During the eight months Jess was in military school, she joined Weight Watchers and became a pescatarian like her mother. She "lost almost 20lbs" and "felt great". Returning home to her then husband, the weight started to creep back on even while maintaining her new pescatarian diet. Shortly after, her husband deployed and she adopted a vegetarian diet and lost the weight again. It wasn't until her husband came home from deployment and they settled back in to their routine that she realized what "married weight" meant. Despite being vegetarian, she again gained weight from fast food outings and eating comfort foods that can sometimes accompany a relationship. "You'd be surprised at how bad you can still eat while being a vegetarian", Jess told us.
 
After they got divorced, Jess once again tweaked her diet and became fully plant-based with the exception of consuming local honey. She also made the decision to cut processed carbs and eat the majority of her food raw, meaning she only cooks a couple of items. At this point in her life, she now had a "great group of friends that shared the same diet". "It made a huge impact on me to have others who shared the same lifestyle as me," she told us.
 
In 2017, maintaining the plant-based diet during her tour in Afghanistan proved extremely difficult. She maintained a vegan status but ended up needing to consume processed carbs in order to sustain herself in a rugged terrain. She went back to her raw plant-based diet upon returning home and felt like she had finally found her happy place. When asked about the journey, Jess said, "I've lived it multiple times…due to life circumstances. When I come back to [a plant based diet], I feel my best." 
Mike's Poultry Farm in South Carolina
As the son and grandson of poultry farmers in Dacusville, South Carolina, the farm lifestyle was nothing new to Mike.
 
When asked what his childhood looked like, Mike stated, "You get up in the morning, and you start farming. You come back from school and you keep farming." Getting up and working before the sun rises gave him an appreciation for nature and hard work that most kids don't get at a young age.
 
Like most young boys, Mike's dad was his "hero" but he saw firsthand how his dads diet affected his health growing up. He had heard about plant-based diets many years ago, but had always been reluctant to try it while in living in the south due to societal impressions.
 
A "little rowdy" and keen to adventure, Mike was encouraged to join the military at age 17 and has served his country through multiple deployments across many countries. During his recent deployment to Afghanistan in 2017, Mike decided to try a plant-based diet with his tour mate, Jess. He also took up long distance running with the encouragement of his fellow soldiers (including Jess) and paired with his new diet, Mike ended up losing 50 pounds. He completed his first 50k run in 2018.
 
Reflecting back on his most recent lifestyle changes, Mike states how this was more about his health than it was about losing weight – losing weight was "just a byproduct of making better choices".
A Shared Vision
Although she grew up outside of St. Louis, Jess's extended family lived in a rural community in Missouri where she enjoyed exploring the countryside. Those memories paired with her new diet, Jess began to dream of growing her garden to help support her lifestyle while giving back to the environment and her community. And due to his fresh focus on health, Mike saw himself coming full circle in his dreams of honoring his father and his family legacy by running a small sustainable farm that matched his new lifestyle.
 
Together, the pair found in each other friendship, support, and shared values that lead them to develop the dream of MJ's Garden and Recreation Area.
A Future for Friendship, Fun and the Good Ole' Outdoors
It might be surprising to tell you that it has only been three months since Mike and Jess bought the small blueberry farm located in Eastover, South Carolina. You wouldn't know it based on the amount of work this couple has managed to do in the evenings after working their full-time jobs. Every ounce of free time is spent towards making their dream come true.
 
The small farm needed a big makeover and the two have attacked this (big) project head on. With the help of family and friends, they've picked blueberries, cleared out old sheds, constructed new gates, and tore down an old barn they found on craigslist by hand so they could repurpose the materials for future projects. The list goes on and on.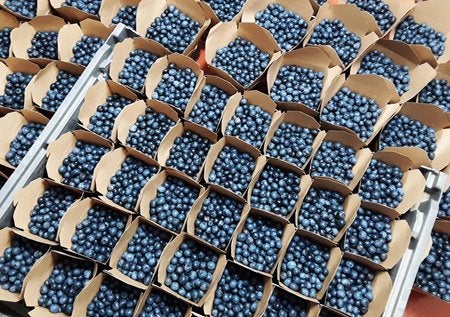 Locally brewed beer, a fishing pond, you-pick gardens, and a walking trail are just some of the goals this couple has for the next 5 years. When asked about the ultimate goal for Mj's Garden and Recreation Area the couple looked at each other and smiled.  Jessica replied:
 
"The main thing we really want to see is just people getting active again… People aren't spending time outside… And that's really what we want to help support for this community."
Follow Mike and Jess's journey on Instagram.
If you're wanting to make your small farm dream come true, visit our land and farm pages or contact us today.