AgSouth Allendale Branch Donates $2,000 to Hampton County Assistance Fund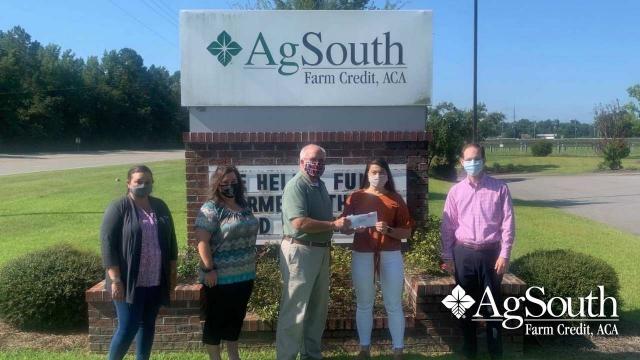 Allendale, SC. (August 11, 2020): After tornadoes struck eastern South Carolina in April, many communities were forced to rebuild among an already strained environment due to COVID-19.
Tornadoes Spark Creation of the Hampton County Assistance Fund
The tornadoes that struck eastern South Carolina in April left the Hampton community to rebuild amid a pandemic, making the process that much more difficult. Over 50 homes were completely destroyed, which displaced countless families who were left to abruptly search for housing in an area of limited supply. Almost 150 homes were damaged or destroyed, and the expected cost of repair is well over $5 million.

A group of Hampton County residents, along with the South Carolina Emergency Management Division formed the Hampton County Assistance Fund. The Assistance Fund is a co-operative group that is made up of representatives from faith-based, non-profit, government, business, and other organizations within Hampton County.

AgSouth values supporting our local communities, in the good times and the bad. In response to this tragic event, the Allendale, South Carolina branch of AgSouth Farm Credit donated $2,000 to relief efforts through the Hampton County Assistance Fund.

Regional Vice President of AgSouth Farm Credit presents Co-Chair of the Hampton County Assistance Fund Wendy Jarrell a donation to their relief efforts in Allendale, South Carolina. (Pictured L-R) Andrea Hodge, Renee' Bishop, Ernie Avant, Wendy Jarrell, and William Barnes.

Ernie Avant, Regional Vice President and Hampton County resident says, "Supporting this local effort is important to me because so many friends, family, and neighbors not only lost their homes and belongings but also, tragically, some lost their lives. So many people came to the assistance of those affected immediately after the storm but the long term needs are still great."

If you are interested in learning more about this relief effort, visit their Facebook page. Or, if you're interested in supporting this relief effort as well, you can make a donation online.