Buying Land to Build a Home: Important Tips from Loan Officers Part 1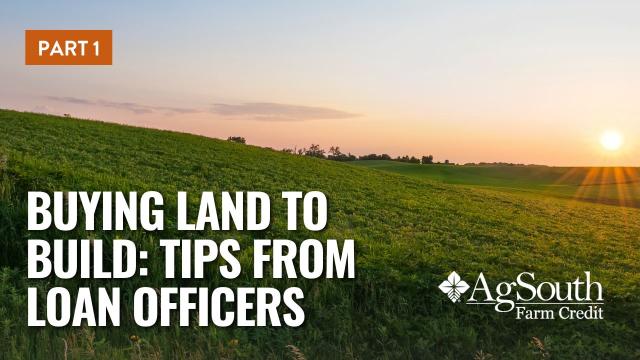 Buying Land to Build a Home: Important Tips from Loan Officers (Part 1)
So you want to buy land and build your dream home? There are a couple of different routes you can take in making this dream a reality. You can buy the land now and wait to build OR you can buy the land AND build the home at the same time. Both routes have benefits. It's really going to come down to timing. 
Wanda Harris, a land loan officer with AgSouth Farm Credit and Taylor Jones, a home loan originator of AgSouth Mortgages, share some important considerations for those who have found land or are searching for land on which to build a home. They want you to know about your options so you can make the best decision for you and your family.
In this two part series, we first discuss land loans with AgSouth Farm Credit. Part two discusses home construction loans with AgSouth Mortgages. 
One Loan or Two?
If you have a perfect piece of property and a builder who is available, it may make sense to obtain a construction to permanent home loan with AgSouth Mortgages to buy both the land and construct the home at the same time. This scenario may mean only one closing and could save you money. 
If, however, you're not ready to build, a land loan first might make sense. Wanda Harris, an AgSouth Farm Credit loan officer says that in some situations people are ready to buy the land but simply not ready to build. Maybe they don't have the builder contract and house plans nailed down yet or maybe the market is really busy and a builder isn't available to start construction at that time. Just because this happens doesn't mean you should miss the opportunity to secure that perfect piece of land.
"There is great value in securing the land with a land loan so you don't lose it," says Wanda. "That's huge. If you don't want to lose the chance to buy a particular piece of land, but you're not ready to build, it's important to buy the land and then wait until you're ready to build to get a construction loan. Even though it will mean more than one closing, it's a scenario that may best fit your circumstances." Later when the customer decides they are ready to build their home, they can wrap their land loan payment in with the construction payment using our AgSouth Mortgages construction to permanent program. 
Home Construction with AgSouth Farm Credit Instead of AgSouth Mortgages
There are certain situations where a home construction loan might make sense to do with an AgSouth Farm Credit product instead of an AgSouth Mortgages product. "We typically see this happen when the dollar value exceeds the construction to permanent program limits or if the home being build includes farm barns or ag facilities."
In this scenario, we would pay off the land loan before setting up the construction loan. AgSouth Farm Credit can loan up to 85 percent of the home construction, depending on the appraisal. "Their down payment will be 15 percent when they are ready to do the construction loan if they do not have enough equity in the land.", says Wanda. "We can do the one-time closing but it all hinges on the value of the appraisal and it requires a 15 percent down payment compared to a 5 percent down payment with AgSouth Mortgages. It's just not comparable to the construction to permanent scenario with AgSouth Mortgages but sometimes it fits the client's needs."
Land Loan Requirements
Typically, land loans require a minimum of 15 percent down plus closing costs and fees and the property cannot be within the city limits; it must be in a rural area. 
Wanda shares that it's helpful for people to have some idea of the most they want to put toward the land and whether they have it on hand. "We can then estimate the monthly payments to make sure they can afford new debt that they are going to acquire with a new land loan."
When a customer is prequalified, as soon as their offer is accepted on a piece of land, Wanda says she will need a copy of the signed contract by all parties to proceed with the loan request. Lot loans for construction loans have a term not to exceed 15 years. Farm loans, in which the land being purchased is currently being farmed or has some potential for farming, have a term not to exceed 20 years.
Talk to a Loan Officer
As you're considering buying land to build a home, talk with your loan officer about your options, specifically about construction to permanent home loans versus land loans. 
See part two in this "Buying Land to Build a Home" series about considerations that Taylor Jones, home loan originator, shares about construction home loans that can wrap both the land purchase and the home construction into one loan.