Coronavirus Update: Branches Return to Pre-Pandemic Operations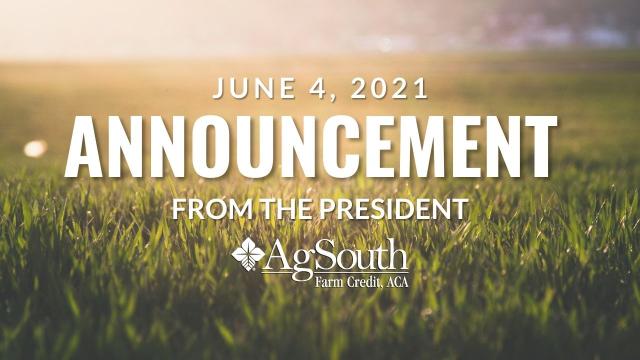 Statesboro, Ga (June 4, 2021): President and Chief Executive Officer Pat Calhoun announces all AgSouth branches will return to pre-pandemic operations on June 7, 2021.
Branches Return to Pre-Pandemic Operations
In December, we announced the decision to move to limited on-site staffing due to increased COVID-19 cases in the area. The health and well-being of our employees and valuable members of our Cooperative have been our top priority alongside maintaining quality customer service. Our mission is to help agriculture and rural America in good times and bad, and we are proud to have continued a high level of operation with the majority of our staff working remotely during these difficult times.
Due to the widespread availability of vaccines and decreases in COVID-19 case numbers, hospitalizations and deaths in both of our states, we feel it is time to return to a more normal operating posture. These indicators along with the emerging guidance from the CDC and similar moves being made by other businesses in our service area has given us confidence in our decision. We will return to full on-site staffing in our branches on Monday, June 7, 2021. While we are on our way to resuming "normal", we are still emphasizing safe social interactions among our staff and the public.
Due to high market demand, we encourage you to make an appointment with a loan officer when possible. You can contact us by phone or email, stop by your local branch, or utilize any of our available online services. AgSouth offers options that allow you to access your account digitally:
AccountAccess – View and manage your accounts online.
AgSouth Mobile App – Manage your accounts with our mobile app. Download from the App Store.
If you have any questions, please don't hesitate to call your loan officer directly or 844.AGSOUTH at any time.
 
Thank you for your understanding and the continued opportunity to serve you. 
Pat Calhoun
President and Chief Executive Officer
---