Equestrian Dream in Aiken, South Carolina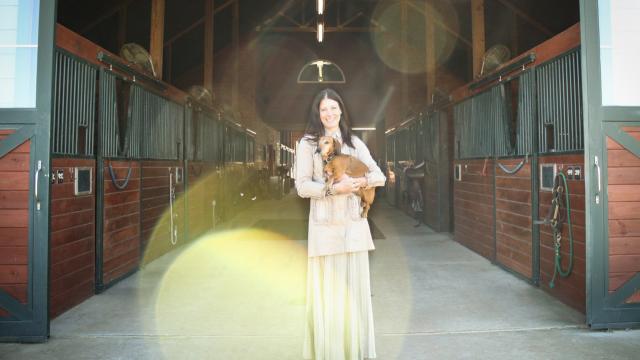 "We did it on love, hope, and faith." - Mary Guynn, Aiken, South Carolina
The Thing about Dreams . . .
Mary Guynn and husband Justin Moore Pimsner grew up with a love of horses. Each knew from an early age that their destinies were tied to horses.
Now, thanks to a lot of perseverance and a little help from AgSouth Farm Credit, they are living their dream on a 133-acre horse farm in Aiken, South Carolina, a place where dreams like theirs have come to fruition on numerous equestrian estates thick with rolling hills and grasses and the thudding "clop, clop" of hooves.
But their dream didn't come easily. First, they had to visualize it. Then they had to make it happen. Along the way, they would overcome obstacles and tragedies and find the will to stay on the path through determination, sacrifice and hard work.
"That," says, Mary, "is the key to living your dreams: Realize that you have to put in the hard work and time to make your dreams come true."
The Dream Begins
Mary's teen-age dream was to rise to the highest levels of the jumper world. Although she didn't have a horse of her own, Mary was determined to find a way to ride. Fortunately, some of her friends had horses and would let her ride and train on them.
She became enamored with one of those friend's horses a several years ago. Mary trained with the big horse, "Konner," and shared him with the owner at shows. The bond between the woman and horse was so strong that she knew their partnership was irreplaceable. Mary was able to purchase Konner from her friend's estate after his death. She says that every time she rides him, she remembers the friend who generously helped her pursue her passion for riding and jumping. Konner remains on their farm and is her favorite horse to this day.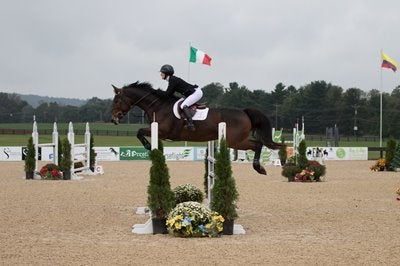 A Shared Passion
Justin was a polo player when Mary met him. He was healing from serious injuries sustained in a terrifying accident. After a slow and painful recovery, Justin was able to return to the sport he loved. He and Mary began sharing their dreams of owning and boarding horses together. They married and lived on a small horse farm as their dreams crystalized. They began looking for that special property where they could make their vision come true.
From Dream to Reality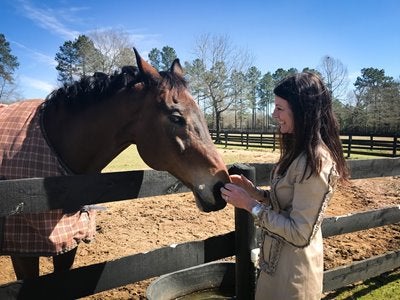 Mary is an attorney with Smith, Massey, Brodie, Guynn & Mayes, an Aiken law firm that specializes in real estate. It was through her legal work that she first heard about AgSouth. She went through several closings with AgSouth for her clients' purchases, and she says "the process always seemed so smooth and easy." When she and Justin were ready to purchase land to start building their dream, she contacted AgSouth.
Mary and Justin worked with AgSouth loan officers Mark Fox and Matt Riddle, first to purchase the property and then to construct a 16-stall barn and 1,600-square-foot living quarters above it. They named their dream "Dollarmor Farm." 
Work began in 2016, and they continue to expand and improve the riding, training and boarding facilities. They already have several arenas, fields for jumping and trails for riding, and they are currently installing a six-stall horse walker to help exercise the horses. Last year Olympic teachers used the impressive farm for training.
"Every day is a leap of faith," Mary says. "When you own horses, it becomes your life." There are no weeks away on an island somewhere for this couple – no vacation cruises and no weekend getaways. They have 18 horses of their own and board more than 30, all with the help of only two part-time employees.
"We have learned the value of one night away, and that's plenty," she says. "There is no place on earth we'd rather be than at home with our horses."
The couple has learned to live in the moment and enjoy what they have – an appreciation that has grown in part because it was nearly taken away from them. Mary and Justin faced some challenges in 2008, but instead of giving up and selling, they buckled down and did what they had to do to keep the farm. They worked even longer days and nights and managed to keep the farm while never missing a payment. 
"We did it on love, hope and faith," Mary says. "It was just the two of us."
She says the experience made them realize something important: "Life on a farm is a process; it's not a destination." 
The Dream Continues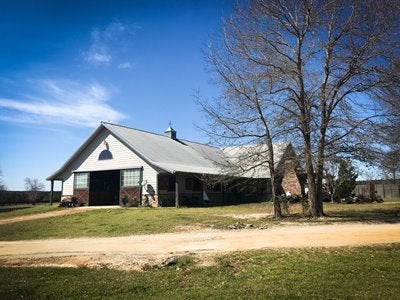 Today Mary and Justin are more determined than ever to keep their dream alive. They have gone through many rough patches separately and together, and they are well on the road to great success. They spend time together on the back deck overlooking their property, a view that includes pastures and a tree line that backs up to a nature conservancy.
Asked what advice she might give to people wishing to start living their own dreams, she says that forming a dream is only the beginning.
"You need a strong work ethic and a willingness to work hard," she says.
Without those two forces supporting your dream, it'll stay just that – a dream.
---
If you need help financing your horse farm or equestrian dream, we would love to be a part of your journey! Click here for more on land loans or farm loans. If you have questions, please feel free to Contact us to get started!