Faith and Farming in Cobbtown, Georgia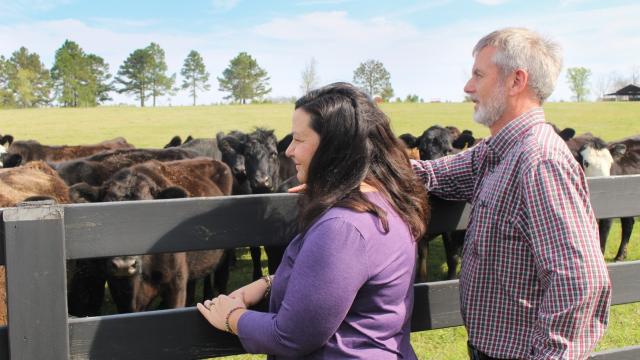 It took 20 years of hard work, consistency, and faith to make the Collins Family Farm in Cobbtown, Georgia what it is today.
Faith and Farming | Cobbtown, Georgia
By Heather Brannen, AgSouth Marketing Specialist
If there was ever a picture of faith – family – fellowship – farming it would be of the Collins'.
Drive straight through the caution light in little Cobbtown, Georgia, turn down a couple of long, winding dirt roads. You'll come around a curve to a sight you would never expect to find – a grand barn with beautiful stained wood, iron railing, rock pillars, metal accents, and perfect landscaping set in front of breathtaking views of rolling pastures, pines, fences, and cattle.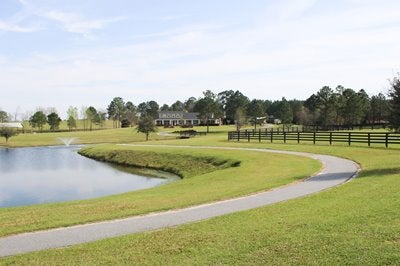 Walk up to the barn and you will be greeted with the warm smiles, handshakes, and hugs from Mike and Donna Collins. As beautiful as you might find the barn and rolling fields, nothing compares to the beauty of the couple and their story behind the barn. 
Talk with them for just a few minutes and you immediately know their hearts and their faith. Their farm – their home – they have built because they, as Mike humbly states, "Trust God's guidance. It's simple, but that's just me." 
All they have they share generously with others, but it definitely didn't happen overnight.
Building a Farm Takes Time
Mike Collins grew up on the farm that his granddaddy purchased when he settled in the area in the 1920's. His childhood memories on the farm centered on community – people coming out for fish fry's and spending time together. As he grew up, Mike always had a dream to be able to move back to their family land, and near family.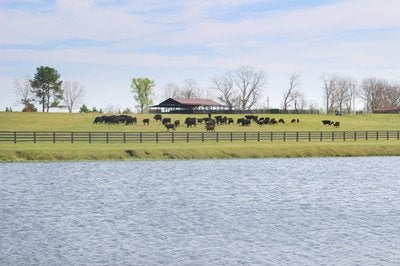 Mike and Donna met in 1999, fell in love, married and began to grow their family. They lived with their two young children in a small house in Cobbtown. Donna fell in love with the farm too. Their shared dream was to build on their family's farm legacy by living there, buying back as much as they could, and leaving it better than it was before so that they could pass it along to their own three children.
After 10 years of marriage and hard work building a business in the timber industry, the couple took a leap of faith and decided to move back to the land their family grew up on. They purchased part of the farm back from other family. At the time the entire property was a large swamp and cut-over timber. Over time they cleared the land, created pastures, and built the pond, working their way up from some lean times in their business.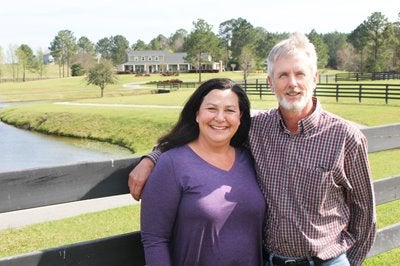 They built their home and then Mike started buying a few cows – three at first. Slowly, he has grown the herd – three to four at a time – to around 100. They're a fun hobby for Mike – Donna jokes that Mike enjoys spending time with his "ladies." Over the years the couple has purchased additional land – some for pasture, and some to grow timber for pulpwood. 
Driven by a Love for People 
Despite everything that Mike and Donna have built, what drives them to do it all is their love of God and love of people. This sweet and humble couple look at each other and light up as they tell stories of church get-togethers at their pavilion, 4th of July community fireworks over the pond, the kids and their friends tubing, riding horses, and filling up their home for the weekend. They love to share what they have with others. 
"THE BARN" at Collins Family Farm
In fact, that desire for community resulted in their most recent venture. After a weekend youth retreat of over 40 kids at their house, they decided they needed more space for gatherings. So they decided to build a barn. But what started as a simple barn, soon turned into something far grander than they ever imagined. Everyone pitched in ideas – the builder, local craftsmen, and friends. The results are stunning.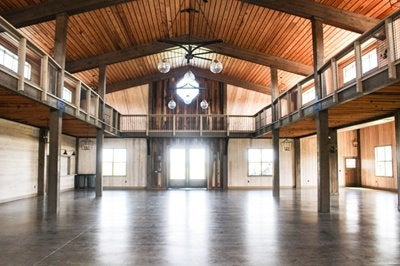 Since the intention of the barn was for family and church gatherings, Donna was surprised when one day a young lady pulled in the driveway. She asked, "Can I get married here?" The answer – why not! The result? "The Barn" at Collins Family Farm – a now very popular spot for weddings, proms, and many other events.
Humble Advice and Bountiful Blessings 
When asked if what they have is what they envisioned, the couple will laugh and tell you "no!" The dream they started out with has blossomed into something far greater than they ever imagined. Their mantra over the years has been "you never know until you try!" But it has come with a lot of hard work, determination, and dedication. Their piece of paradise has been 20 years in the making, and as result, advice to others is true wisdom. "If you have a dream, go for it! But don't get in too big of a hurry. Things don't happen overnight. When times get tough, stay the course. Hold steady, don't give up. Sometimes you may have to scale back and go a different direction. What's important is that you keep moving forward."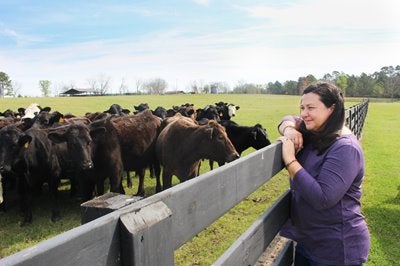 Donna adds, "You don't have to do it by yourself. There are people there to help you." Before the couple makes any financial move, they put together a plan and approach their loan officer. Clay Clifton in Vidalia helps them decide if it's the right time or whether to wait. "I trust Clay. He's always taken care of me," says Mike.
Ultimately, Collins' Family Farm is about faith and fellowship.   
The couple have done it because Mike states "the Bible says whatever you put your hand to, God's going to bless it." 
And blessed they surely are.
--
If you need help financing your dream of a family farm, we would love to be a part of your journey. Contact us to get started. For more Stop Dreaming and Start Living stories, visit our blog.