Home Loan: How to Get Started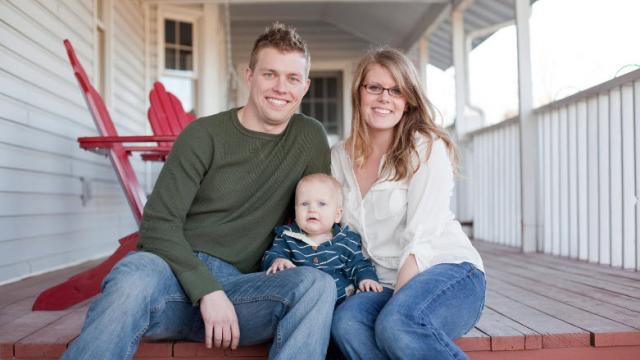 Do you feel like you're finally ready to buy your first home? Here's how to get started!
 
Congratulations! You've decided that it's time to buy your first home! You've already determined that your credit score is good, you've paid down your debts, saved some money and determined what you think is a price you can afford.

You can imagine the home of your dreams - what it looks like, where it's located, the number of bedrooms you need and the type of property it's on. Now what?

Here's some information that will get you closer to your dream of being a homeowner! 
TALK TO A LENDER
Call around. Do some online research to find out about the types of loans lenders offer and determine what program might be right for you. Ask your friends and family for their recommendations. Here's a sampling of what types of loans typical mortgage lenders offer:

•    Conventional Loans are the most common type of mortgage. They typically require a down payment of up to 20% and have a term of 30 years. Other terms are available, depending on the lender.
•    VA Loans are offered for veterans and require no down payment. These loans are partially backed by the Veterans Administration and have maximum loan amounts of $453,100.
•    FHA Loans are designed for low-to-moderate income borrowers. These loans are insured by the Federal Housing Administration and offer lower down payments and credit scores than conventional loans.
•    USDA Loans are for rural and suburban properties and require no down payment. They are a good option for those who want to live in the country and don't qualify for a conventional mortgage.
GET PREQUALIFIED
You now know the basics of your financial situation and the types of mortgages available. You've done your research, have selected a lender and determined the type of loan you want. You'll now want to submit an application for prequalification. Your mortgage lender will go through your financial obligations, pull your credit history, determine the amount of mortgage you qualify for and issue a prequalification letter.

The letter will say that you have been prequalified for a home loan in an amount the lender feels the information you provided will support. Most Realtors will require this before showing you any homes. They want to make sure they aren't wasting their time or yours by showing you homes you can't afford. Having the prequalification letter in hand lets the Realtor and potential sellers know that you are serious about house hunting and are ready to make an offer once you find the right house. 
FIND A REALTOR
Ask your friends, relatives and your lender for a Realtor referral. The right Realtor will know information about neighborhoods, schools, taxes, local shopping and can show you any house on the market, even if it's listed with another Realtor. The Realtor will be your go-between between your seller's agent and you. A Realtor's fee (usually between 6-8% of the sales price) is paid by the seller, so there's no fee on your end. Using the services of a Realtor will save you time and ease some of that anxiety you may be feeling at having to choose which home is best for you.
APPLICATION
Once you have found your dream home and have signed a purchase agreement, you sign the full home loan application with your lender and will get a checklist of documents needed to verify the information in the application. 

Here's some information typically required by a lender for a home loan. It may sound like a lot, but the lender is taking a risk by lending money to someone they don't know over an extended period of time. They need to make sure they cover all the bases to protect them and their other borrowers. For all applicants, you will need: 

•    Social Security Card
•    Driver's License
•    Residence Addresses for the Past 2 Years
•    Names & Addresses of Employers for the Past 2 Years
•    Gross Monthly Salary & Current Paystubs For the Last Month
•    Names, Addresses, Account Numbers and Balances of All of Your Open Credit
•    Addresses of All Real Estate Owned by You
•    Loan Information on All Real Estate Owned by You
•    Estimated Value of Furniture & Personal Property
•    Last 2 Years of W2s or, if Self-Employed, the Last 2 Years of Tax Returns

It's important to note that all documentation should be turned in within 48 hours of the application being signed. The clock starts ticking on your loan closing when all documents are received, and not before. Once the application has been received AND the documents have been submitted, the lender will order an appraisal, tax transcripts, title and employment verifications. The time to close on your house from this point is typically anywhere from 30-40 days.

The appraisal ensures that you are not overpaying for the home. Title ensures that you are buying from the true owner of the property and that all liens against the property have been, or will be, paid at closing so that you will have a clean title. Tax transcripts show that all taxes on the property have been, or will be, paid at closing.
LOAN PROCESSING
Your documentation will be fully reviewed and assembled per the lender's underwriting standards
for the loan program you have selected. The loan processor will prepare the paperwork for the underwriter to review.
UNDERWRITING
The underwriter will verify that all information is correct and will evaluate the eligibility requirements of the loan program being used with the documentation from the processor. Once reviewed, either a conditional approval or clear to close is issued.

A conditional closing approval means that there is a detail that needs to be settled before you can close, and once the matter is taken care of, you're ready to sign for the loan. A clear-to-close approval means that a closing date can be scheduled and you'll be moving very soon, so get those boxes packed!

You'll get a closing disclosure statement for acknowledgement no later than three days before the day of closing. You'll work with an approved closing attorney and the lender to schedule the closing. The attorney will make sure all documents are properly signed and recorded.
CLOSING
Closing is the culmination all of your hard work and the signing of paperwork. Once you sign the paperwork, you go home with keys to your new home and start unpacking and living your life in the home you imagined!

Have questions about the home loan process? Contact us!