Home Loans: FAQ on Getting Pre-Qualified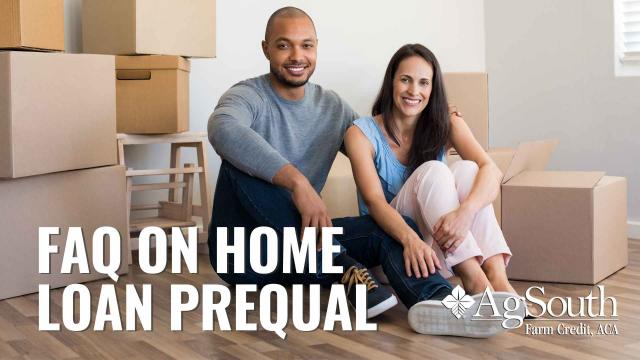 We answer all of your frequently asked questions on getting pre-qualified including benefits, what's on the form, and the difference between a pre-qualification and an application. 
In this article you'll find:
Pre-qualification definition
Pre-qualification vs application
​What is on the pre-qualification form
And more...
What You Should Know About Pre-Qualification 
If you're shopping for a home, you have more than likely heard the term "preq-ualification" being thrown around. Do you really need a pre-qualification and what are the benefits to obtaining one? AgSouth Mortgages Originator Brandt Stone, in our Laurens, South Carolina branch, answers commonly asked questions on getting pre-qualified for a home loan. 
What exactly is a pre-qualification? 
A pre-qualification is a preliminary approval for a loan to purchase a primary dwelling.  We obtain a pre-qualification form with a driver's license, and then run the pre-qualification based on this preliminary income information and your credit score. It is not a full loan approval or commitment to lend on behalf of AgSouth. Pre-qualification for home purchases are valid for 90 days for existing and 120 for new construction.  
What's the difference in a pre-qualification and an application? 
Most customers get pre-qualified while shopping around. Once they decide on a property, they use the pre-qualification letter to make an offer and then an official contract is signed. We then add the contract and plat to complete what is now the formal application. At that time, we pull a full credit history and also gather the rest of the necessary verification statements, if we don't already have them.
Why is it beneficial to get pre-qualified? 
A pre-qualification will help you know what you can afford so you can look at properties that are in your price range. Most realtors prefer you have a pre-qualification upfront because this shows them that you are a serious potential client. 

We also recommend getting pre-qualified because it helps us help you. Having a lender look at your income and credit score before you get too deep in to searching allows us to give you a heads up in case you need to improve anything or plan around any upcoming unique situations. 

Finally, having a pre-qualification makes the entire loan process quicker. Again, most realtors require a pre-qualification before you can submit an offer on the property. Getting pre-qualified means we have already pulled your credit and have done some preliminary leg work. When you come back ready for the loan, all we have to do is verify the information provided on the pre-qualification form, if it has not been verified already, and ensure that the property you have made an offer on is something that we can finance. From there, we go to the appraisal, the attorney processes and then proceed to closing!
How long does the pre-qualification take?
Typically, 1-2 days for home loans. 
What information do you gather in a pre-qualification? 
General borrower information including if there will be a co-borrower, marital status, years of school completed, number of dependents, loan amount requested, loan term desired, and estimate of current collateral. 
General borrower employment information (including co-borrower) such as employer name, years employed, position, and years in line of work. 
Income (including co-borrower) gross annual base salary, and other forms of income like commission, child support, social security, and more. 
Assets including automobiles, bank account balances, real estate owned, and more. 
Liabilities including current debts, monthly payments, and other obligations like child support. 
Customers should be aware that the pre-qualification is based on limited information, so it may change once verification statements and down payment funds are received.
What items do I need to provide for pre-qualification?
The pre-qualification form completed and a driver's license.
Are there any fees associated with getting prequalified? 
There are no fees associated with the pre-qualification form.
Once I've found a property, what do I need to do next? 
Send us a copy of the ratified contract as soon as you get it and we will let you know what else we need at that time. The quicker we get the contract, the quicker we can get you to closing. 
What are your home loan options?
Homes with Acreage
Homes in Town & in the Country
Home Renovations & FHA 203(k) Program for Purchase and/or Renovation
Vacation Properties
Investment Properties
Up to 97% Financing for First-Time Homebuyers
Up to 95% Financing for Conventional Loans
USDA & VA Loans with 0% down
AgSouth Farm Credit also offers agriculture and land financing for large acre purchases.