How to Manage Your Land for Wildlife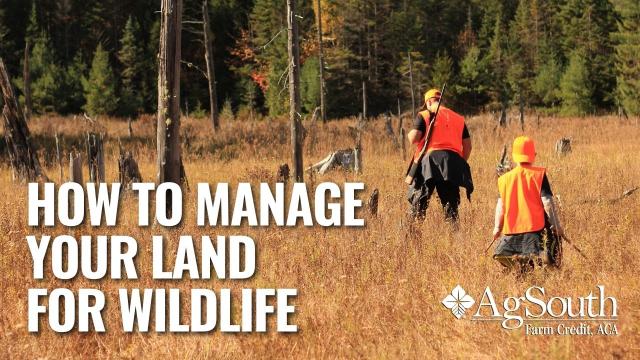 Having a wildlife management plan is crucial in getting the most out of your recreational land for hunting. We go over common ways you can manage your land to increase wildlife and provide resources for constructing your plan.
Key takeaways:
Maximize natural forage and food plots
Maintain and add water sources
Provide shelter
Use your resources to plan
Having a wildlife management plan is crucial in getting the most out of your recreational land for hunting. This plan will depend on how much land you have, what wildlife you want to attract, and how much time, effort and resources you can commit. The good news is, developing even the simplest of plans can increase wildlife significantly. 
Why You Need a Wildlife Management Plan
Think about when you feel the safest. Your thirst is quenched, your belly is full and you're most likely cozied up on the couch with your loved ones. Life is good. But for most people, our homes are never 100% the way we want them at first and we still need to worry about the upkeep overtime. The fridge will need restocked. You might need to replace your plumbing from time to time. And the floors need swept at least once a week. 

If your goal is to increase wildlife on your land for recreational hunting, you'll need a similar plan so that wildlife feel safe and at home. 
Maximizing Natural Forage and Food Plots
The land you buy will have some sort of natural food supply already but restocking the fridge and adding some of their favorite treats can keep your guests happy and coming back to visit. 

Some inexpensive ways to manage the natural forage on your land can be as simple as:
Mowing existing fields to disperse seeds 
Shallow tilling the soil to encourage new growth
Thinning overstocked timber stands to allow for increased understory vegetative growth and for browse and cover
The above methods can be done easily by the average land owner if they take the time.
 
Prescribed burning is another common method that is extremely beneficial for the natural forage on your land. This management tool tends to be complicated and requires experience and skill to be successful It is best to hire a trained professional, like a forester, to carry out this method due to regulations and safety. 

Adding food plots are another way to attract wildlife. What you plant and how much you plant will depend on how many acres you have, what wildlife you want to attract, as well as the season you plant in. It's not uncommon to attract multiple species with the same food source. Both turkeys and deer would be attracted by wheat, rye and forage oats. Quick online research and consulting with a wildlife management professional would give you a good starting point on developing a plan for food plots.  
Maintaining and Adding Water Sources
If your goal is to own land for recreational hunting, it's best to purchase a tract that has some sort of water source on it whether it be a river, stream or a pond. Hardwood drains leading to these waters sources can provide travel corridors for wildlife.

If your property has a pond already, management of this resource can provide benefits for deer and duck populations. Proper pond management can allow the landowner to have recreational benefits from multiple species. 

Strategically creating a water source is an option as well. Watering holes can be an inexpensive means of attracting deer and standing water can make them feel safe since they can drink without the noise of a stream in their ear. Check out this video that shows how you can create a watering hole for deer for under $15. Installing smaller rainwater collection systems is another inexpensive way to add a water source to your property. 

You might be thinking about building a pond or purposely flooding fields to create water and food sources. Building a pond can be an expensive investment and requires significant planning, resources, permits and upkeep. Most states have rules and regulations surrounding the construction of ponds or flooding fields. We recommend consulting with your local USDA Natural Resources Conservation Service on this topic.
Providing Shelter
Most of the management you do for food dually serves as a means of providing shelter for wildlife as well. Thinning trees and management of forest floor grasses and forbs provide great covers for all wildlife species. Creating open grassy fields is another way to provide a nesting and mating place for wildlife. 
Use Your Resources to Plan
At the end of the day, we highly recommend doing your research, setting a goal, and then consulting with professionals when developing your wildlife management plan. For more in-depth discussion on the topics we mentioned above, please visit My Land Plan for Landowners by the American Forest Foundation. 
Below are other resources to aid you in your planning: 
Georgia:
Georgia Forestry Commission
Georgia Wildlife Resources Division
USDA Natural Resources Conservation Service Georgia
North Carolina:
North Carolina Forest Service
N.C. Wildlife Resources Commission
USDA Natural Resources Conservation Service North Carolina
South Carolina:
South Carolina Forestry Commission
South Carolina Department of Natural Resources
USDA Natural Resources Conservation Service South Carolina

Ready to Buy Land?
If you're interested in buying land in North Carolina, Georgia, or South Carolina one of our local loan officers would be more than happy to help. Find an AgSouth Branch near you!
Not in our territory? Find your Farm Credit Association.