Increase Your Home Value Now with These Top 5 Upgrades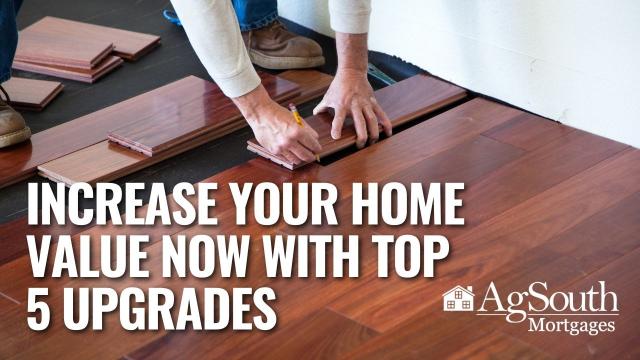 Increase Your Home Value Now with These Top 5 Upgrades
Biggest Takeaways:
Upgrades to homes older than 10 years bring the most value.
Return-on-investment depends largely on market, location, and initial home value. 
Modest upgrades that bring your house closer to current middle-market trends bring the most return.
Wonder what improvements can add the most value to your home to increase your return on investment whenever you sell? 
If so, you are not alone. "Best home upgrades" is one of the most common real estate searches on the internet. We talked with licensed South Carolina certified general appraiser, Scott Garland with On-site Appraisals, to discuss the best (and smartest) upgrades you can make to your home that add value.
The Best Time to Make Home Upgrades
It's important to note that doing upgrades to your home with the goal of adding value is only beneficial if your home is a minimum of 10 years old. A lot of people think they can buy a new home in a new subdivision, make some upgrades, and see a high return-on-investment if they sell in a few years. This is a common misconception. Typically, a 20 to 30 year old home sees a higher return per project. This is because project materials usually have a minimum shelf life of 10 years. Another big reason for this has to do with your surroundings and current market trends. "Because the homes around you are still so new and everything selling around you is so much like yours in square footage and design, you don't really recoup upgrade expenses," says Scott Garland. "What you have done instead is overbuild your home for your neighborhood." 
Important Note on Estimated Return-on-Investment
A lot of other articles you'll see on this topic give you estimates on cost per project and recoup value. We think this can be misleading! Your return-on-investment per project depends on a variety of factors including market conditions (inflated market vs normal), your location, and your initial home value. Because of this, we will not go in to project costs or estimated percentage of return. We will, however, go over what we have seen historically to be the smartest upgrades you can make and why. Spend some time becoming aware of the above factors, how they pertain to your current situation, and get a few bid estimates from local professionals before you proceed.
Top 5 Upgrades to Add Value to Your Home Now
1. Add Square Footage or Better Utilize Current Square Footage
The best way to increase value in your home is to increase its square footage or update its floor plan especially if the majority of the homes surrounding you have been modernized, too. "If you currently have the smallest house on the block with two bedrooms and one bath, adding a bedroom and a bathroom to be up-to-date with current trends would add significant value to your home," says Scott. Another option would be opening up a closed floor plan by knocking out some walls or finishing out an attic or basement. "Doing this lowers your effective age of the home and makes it more appealing when you go to sell."
According to Real Estate Valuation Company Clear Capital, "Effective age is a term used by appraisers to state the age of the property based on its current condition, rather than its actual age." Maintaining your home with market trends will lower the effective age. 
2. Update Your Kitchen
If you're in an old home you don't have to spend $30,000 on a complete kitchen remodel in order to make your home more sellable. Again, bringing your kitchen up-to-date with current trends is the easiest way to recoup your project costs. 
"Something as simple as making sure all your appliances match in color, or adding appliances to improve the functionality of the kitchen can change its entire appeal," says Scott. "If your cabinets have a good wood base, changing the door facings, upgrading hardware, or painting them can be a less expensive way of modernizing and lowering your home's effective age."
Another simple and cost effective upgrade would be switching countertops from laminate to quartz, granite or some other type of rock. 
3. Update Your Exterior
If you have siding, replacing it can add value to your home but there are other lower-cost methods that can do just the same.
"The only time you need to replace siding is if it's starting to rot, needs repairs, or has met its life expectancy," says Scott. "Simply painting old yellow vinyl siding to a modern grey can make a huge difference." 
Red brick homes are no stranger to the south. "Painting red brick can change the whole curb appeal of the home," says Scott. "I have seen this so many times. A house will be painted and then I'll get a call from someone that said they saw it the week before and now it just looks like an entirely different house."
Another easy way to increase the value and curb appeal is adding accents. Adding – or removing – shutters, painting trim, painting your front door, updating porch columns, or adding stone accents to the porch posts or sections of the house as a focal point can be small changes that have big impact. 
4. Upgrade Flooring
Depending on your square footage, this can be one of the most expensive upgrades if you want consistent flooring throughout the entire house. If your flooring has met its life expectancy, it's definitely time to upgrade.  
"In the current market today, hardwoods have gotten really expensive. Buyers like to see them more in older homes where they already existed but have been refinished," says Scott. If you currently have carpet that needs replacing, check to see if there are beautiful hardwoods under the carpet that you can redo. If there aren't any hardwoods, current trends are leaning more towards vinyl planking due to better durability. "People like vinyl planking in newer homes because it holds up better with babies and pets," says Scott.
5. Put in Energy Efficient Windows
"After a certain time frame windows become a must," says Scott. "If your windows are currently hard to operate, clean or aren't energy efficient, it's time. Upgrading them also adds curb appeal." The cost of this project can be heavily dependent on the market and where you live. In an inflated market, it's highly unlikely you are going to get that money back. We recommend getting a few different bids and really weighing the cost of this project compared to your current home value. 
Compare Project Cost to Initial Home Value
No matter what you choose to upgrade, it's important to keep the ratio between project cost and initial home value in mind. Super custom homes that use high-end materials (unless in a similar market) usually don't recoup a large percentage of the expense. It's best to think about doing modest upgrades that bring your house closer to current middle-market trends and not overbuild your home. 
Ready to Buy a Home?
If you're interested in buying a country home in North Carolina, South Carolina or Georgia, one of our local mortgage loan officers would be more than happy to help. Contact a local mortgage originator. 
Not in North Carolina, South Carolina or Georgia? Find Your Farm Credit Association.