Interested in a Country Home? Here are 6 Things to Know Before You Buy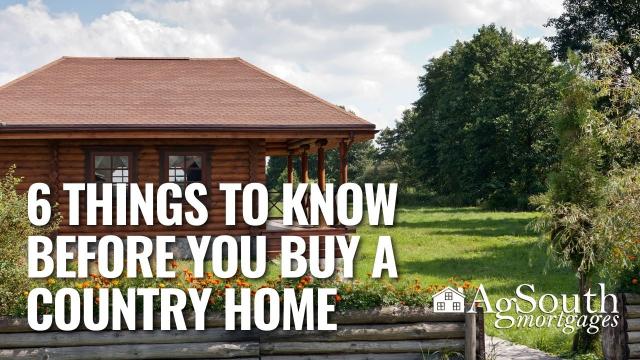 Does living out in the country sound like a dream? Here are 6 things you need to know before you buy a country home with acreage.
 
Many Americans are transitioning from life in the city to rural areas due to working virtually and no longer worrying about the commute to work. Others are just wanting a more quiet life for their families. No matter your reason for wanting to buy a home in the country with acreage, there are several things you should consider before making this investment.
1. Know your "why" for moving to the country. 
Why do you want to buy a home with acreage? Make sure that that whatever your "why" is, is good enough to justify making a lifestyle change to rural living. Your why could be….
"Our long term goal is to have cattle on our land"
"We want to raise our family out of the city in a more rural area"
"We want more privacy and want to be able to hunt on our property
No matter your "why" make sure it aligns with your life goals.
2. Location could be critically important depending on your lifestyle. 
One of the most popular sayings when buying a new home is "location, location, location." This is especially true when purchasing a home with acreage.
Things to consider are:
You may be farther from schools, hospitals, grocery stores, and other amenities
Homes in rural areas typically don't have HOAs, so you need to make sure you like what you will be living around (neighbors can have junk cars, unkempt yards, etc.)
If you are on a private road you may be responsible for repairs to the road
If you are on a dirt road, you will need to make sure that there are drainage ditches in case there are issues with heavy rain in your area
You may have limited internet access or cell phone service-research what your internet/phone options are before purchasing
Your neighbors might be farmers. That might mean manure, fertilizer and other smells and equipment on the road at 7am. Those pretty fields on either side of your road, could be your neighbor's livelihood.
Make sure that the property you are purchasing is in a location that works for you and your family.
3. Compare deed restrictions and zoning ordinances with your "why".
Many people think that buying a home with acreage means that they can do whatever they want with the property. There may be deed restrictions which can limit what you can do with your home including the number of bedrooms and building height and width, or there may be zoning ordinances such as not being able to put certain types of livestock on your property.
It is very important to check deed restrictions and zoning ordinances BEFORE buying a home with acreage to make sure the property aligns with your goals.
4. Homes with acreage can require more maintenance.
Maintenance is one of the main things people don't factor in when considering buying a home with acreage. Having to cut a half acre of grass and 30 acres of grass are two totally different ballparks. If you have livestock you will need to maintain fencing around your property. If you have timber you will be responsible for clearing any fallen trees or debris. Make sure if you are buying a home with acreage, you are prepared to maintain the land.
5. Country homes typically run on well water.
If you are buying a rural home, most likely you will be using well water rather than public water. While well water is a lot cheaper than public water, it will need to be tested regularly to ensure it is safe for human consumption.
It is very important to test the well water for minerals and other dangerous bacteria before purchasing the home. Many real estate professionals will recommend that you do as many well water tests as you can before making the big purchase.
6. Country homes typically require septic systems.
Another important aspect of homes with acreage are septic systems. Most developed areas (think neighborhoods, suburbs, and cities) are hooked up to commercial sewer systems where waste is transported from homes to a waste treatment facility through sewer lines. Most homes in rural areas with acreage are hooked to septic systems.
The benefit of septic systems is that usually property taxes are lower due to not using commercial sewer systems. A potential concern with septic systems is that eventually, the septic system will need to be replaced and can be expensive.
If you are considering buying a home with acreage, make sure that the septic system is tested before purchasing the home.
So Why Should You Purchase a Home With Acreage?
While homes with acreage are undoubtedly a lot of work, they can be a dream come true for some families. If you are wanting: peace and quiet away from the city, freedom and flexibility on your property, no HOA, privacy from neighbors, and a more rural lifestyle, a home with acreage may be just what you need.
Questions?
If you're interested in buying a country home in South Carolina or Georgia, one of our local mortgage loan officers would be more than happy to help. Contact a local mortgage originator. 
Not in South Carolina or Georgia? Find Your Farm Credit Association.
---