Land Loan FAQs: What are Current Interest Rates?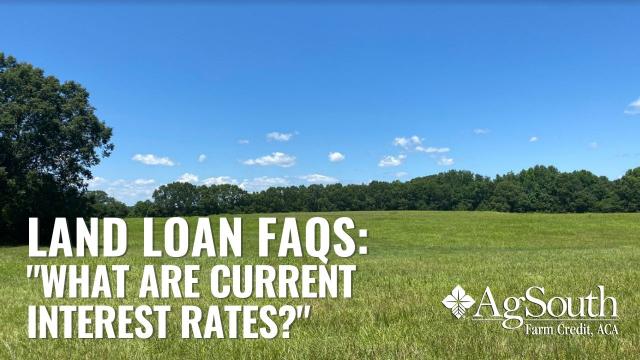 This edition of our FAQ Land Series covers current interest rates and how to get a ballpark number. 
Q: "I found a tract of land I want to buy for hunting. What are your current interest rates?"
A: This is a very common question! Our rates are competitive with other lenders, but interest rates change daily. There are also several variables considered when determining someone's interest rate, so it's hard to give someone an instant, clear answer.

Factors that affect your interest rate can include how long your loan is financed for and your current financial situation.  

Regional Vice President Mark Fox provides some advice for folks considering AgSouth for a land loan and who want to call to ask about interest rates:

The easiest thing to do is to first talk with a loan officer so that you get a full understanding of the loan process. They then can get a feel for what you're looking to do and can give you a more accurate estimate of an interest rate.

He says the first thing he would do if someone called with this question is to first check if the land being purchased or the interested individual lives in one of the counties serviced by AgSouth. Second, he gets more information on the assets the land has, such as timber or water access. He also asks a few questions to get a basic understanding of the customer's current financials.  And, lastly he aims for an understanding as to the source of repayment and duration of the loan requested to fit the applicant's cash flow needs.

Based on the information about the land, along with their current financial situation and repayment needs, Mark would then outline a rough estimate of current interest rates applicable to the specific loan request.

An important note to remember about interest rates, is that unimproved land rates may be higher than residential mortgages. As a competitive advantage, AgSouth also returns a Patronage distribution of our profits each year, which effectively lowers your interest rate even more! Be sure to talk to your loan officer about the effect that Patronage will have on your interest rate – or check out our online Patronage Calculator!
Questions?
If you're interested in buying agricultural real estate or a piece of recreational land in South Carolina or Georgia, a quick call to your local AgSouth office could give you a ballpark of interest rates. Find an AgSouth Branch near you!

Not in South Carolina or Georgia? Find your Farm Credit Association.