Land Loans: FAQ on Getting Pre-qualified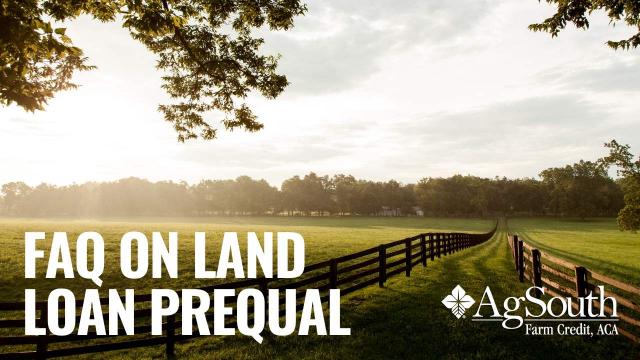 We answer all of your frequently asked questions on getting pre-qualified including benefits, what's on the form, and the difference between a pre-qualification and an application.
In this article you'll find:
Pre-qualification definition
Pre-qualification vs application
​What is on the pre-qualification form
And more...
What You Should Know About Land Loan Pre-Qualification
If you've started looking for the perfect property to own, you might be wondering what "getting pre-qualified" means and what the process looks like. Our loan officers at AgSouth pre-qualify folks every day, so we gathered your most frequently asked questions about pre-qualification and talked to one of our very own, AgSouth Loan Officer Brittany Vicari!
What exactly is a pre-qualification? 
A pre-qualification is a preliminary approval for a loan. It is not a full loan approval or commitment to lend on behalf of AgSouth. A pre-qualification is good for 60 days. 
When should I get pre-qualified?
Most customers like to get pre-qualified while they're shopping around for land. 
Why is it beneficial to get pre-qualified?
A pre-qualification will help you know what you can afford so you can look at properties that are in your price range of affordability. We recommend getting pre-qualified because there are many things related to income and credit score that are considered and it is beneficial for us to know that up front. It will help us to help you – even if we cannot do the financing now, we can help you know where to improve so hopefully we can help you in the future. 

Getting pre-qualified also makes the loan process and buying process a little quicker because most realtors request a pre-qualification letter when a buyer submits an offer on a property. Once you are pre-qualified, we have already pulled your credit and have done some preliminary leg work. When you come back ready for the loan, all we have to do is verify the information provided on the pre-qualification form - if it has not been verified already - and ensure that the property you have made an offer on is something that we can finance. From there, we go to the appraisal, the attorney processes and then proceed to closing! The faster we get all the needed documents, the faster we can move the loan through the process. 
How long does the pre-qualification take? 
Typically, within a day for loans $250,000 and under, and depending on circumstances anywhere from a day or two but no more than a week for loans over $250,000.
Are there any fees associated with getting prequalified? 
No! A fee may be charged later in the loan process once a full application is received and processed.
What items do I need to provide for pre-qualification?
A driver's license (or some form of ID) and a completed pre-qualification form which includes:
General borrower information including if there will be a co-borrower, marital status, years of school completed, number of dependents, loan amount requested, loan term desired, and an estimate of current collateral. 
General borrower employment information (including co-borrower) such as employer name, years employed, position, and years in the line of work. 
Income (including co-borrower) gross annual base salary, and other forms of income like commission, child support, social security, and more. 
Assets including automobiles, bank account balances, real estate owned, and more. 
Liabilities including current debts, monthly payments, and other obligations like child support. 
Keep in mind that pre-qualification is based on limited information and every case is different. Therefore, you may also have to provide other verification items. Your local loan officer can give you more information on what they will need from you. 
Is there a minimum acreage to purchase to get a loan? 
No, we do not have a minimum acreage. We offer loan programs for residential lots to be used for a primary residence which vary in acreage size and also offer ag/farm land financing for those large acre purchases.
Once I've found a property, what do I need to do next? 
Customers who have found the property they want to purchase typically use the pre-qualification letter to make an offer and a sales contract is generally signed. All you need to do next is send us a copy of the official contract and we'll let you know what else we need at that time.
Ready to get pre-qualified?
We hope these answers to your pre-qualification FAQs have helped clarify what getting pre-qualified really means and what the process looks like. If you think you are ready to take this step, reach out to your local AgSouth branch.