Spotlight: Alan Smith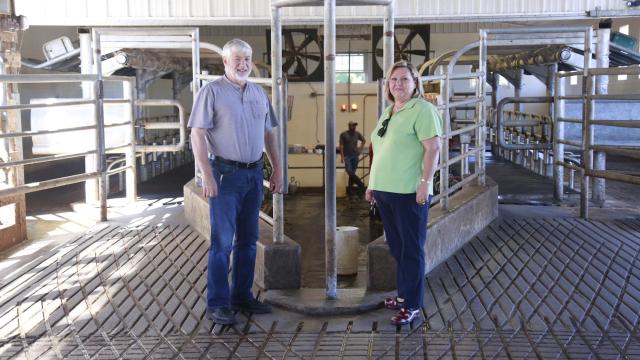 Hometown: Stony Point, N.C.
Size of Operation: 350 Acres
Years in Business: 45
Years Working with Farm Credit: 40+
Armed with the opportunity and the drive to succeed, Alan Smith took over his family farm in 1972. "My dad didn't ask me what I wanted to be when I grew up; he gave me an opportunity to go to work, and I took advantage of it."
Alan is the fourth generation to work and live on the family farm; and he is the founder of Daddy Pete's Dairy and Daddy Pete's Plant Pleaser.
Alan believes firmly in the importance and traditions that farming brings to rural America. He says of farming, "Farming traditions have been passed down for many generations. There have been failures and successes that have created the good farming practices and products that have stood the test of time." He has built his successes on those ideas and practices; which has given him the opportunity to make an impact in the industry as well as form meaningful relationships with those involved in agriculture.
To diversify the dairy operation, Alan began Daddy Pete's Plant Pleaser line of fertilizers and soil products in 1988. The line has grown to now feature 21 products in over 400 stores across the United States. Alan is excited about the continued growth of the line "It has been nice to see this grow to become something that is its own operation. It is something that people enjoy and see a value in. I'm glad we can provide that."
Farm Credit has been a partner of Alan and the Daddy Pete's operation throughout his career. "Farm Credit is in the stands rooting for you, and it's nice when borrowing money is an enjoyable experience."
He describes Farm Credit's role as the hitch pin that continues to connect farmers with the rest of the consuming world. "You can do a lot with a big tractor, and you can have a really nice attachment, but without that hitch pin, you won't be going anywhere. That's what Farm Credit is to rural America. They keep farmers connected."
You can learn more about Daddy Pete's Plant Pleaser, a division of Daddy Pete Farms, by visiting www.daddypetes.com.