Spotlight: Appalachian Christmas Mountain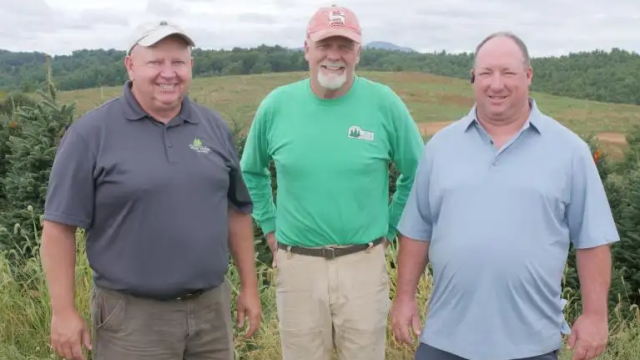 As its name implies, Christmas is a year-round effort at Appalachian Christmas Mountain (ACM), where four partners – each with independent tree farming operations that together raise 2 million trees – have joined forces in a 100-acre Christmas tree farm along a main highway near Boone in Watauga County, NC.
The location is supreme for the operation's choose-and-cut business, where 50,000 Fraser Fir, Canaan Fir, and Nordmann Fir trees grow. Each year, around 3,000 area residents trek to the farm, most often as a family, to wander the groves seeking their perfect holiday tree while watching wild animals flit and frolic.
"With the world as it is, people are spending more family time together, and we'd like to be able to offer a healthy, fun outdoor activity they can enjoy," says Jessie Davis, one of the ACM partners and a Farm Credit customer for 10 years.
Providing a healthy wildlife habitat to the deer, rabbits and birds that thrive among the trees is only one environmental benefit ACM delivers. The trees themselves are perhaps the best engine for sustainability: according to Jessie, each acre produces enough oxygen, on average, to support 18 people, with younger trees more efficient than their elders. This means cutting down older trees and replanting two or three trees for every one cut, as ACM does, helps maintain healthy oxygen production.
Protecting the trees and the habitat is an ongoing focus for the team at ACM. They practice Integrated Pest Management, using beneficial insects and other practices to dramatically reduce their use of herbicides and insecticides and maintain an environment that's safe for wildlife.
ACM is a fairly new business, and in addition to the choose-and-cut operation, also sells wholesale to local retailers. The company was established in 2018 with funding from Farm Credit, and all four partners have relationships with Farm Credit going back a decade or two.
"Farm Credit cares about farmers, and they kept my family in business by providing financing we needed that other banks would not," says Rusty Estes, one of the AMC partners and a Farm Credit customer for 20 years. "They're genuine, honest people and they help you in time of need. They've never let us down."
"We've done a lot of different deals with Farm Credit on land and equipment, and they've been very helpful and thorough supporting our growth and helping us pursue opportunities," adds Cale Smith, another ACM partner and Farm Credit customer for nearly 20 years.
Despite ACM's newness, the partners are applying their decades of experience to expansion plans, including making Appalachian Christmas Mountain even more of a year-round affair with additional, holiday-themed agri-tainment activities and products.