Spotlight: Apple Wedge Packers & Cider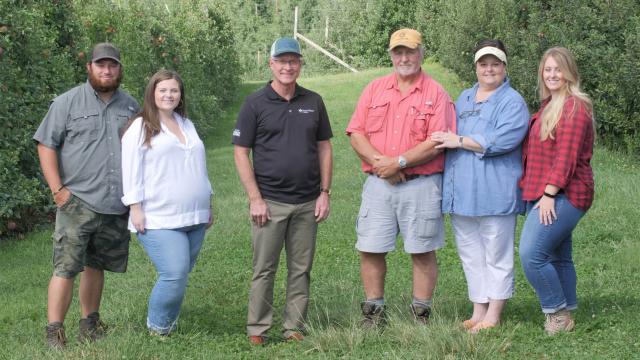 Right in the middle of apple country in Hendersonville, NC, sits one of the largest shippers of fresh apples and the largest fresh apple packer in the state: Apple Wedge Packers. Led by founder Greg Nix, Apple Wedge Packers manages 110,000 apple trees on 200 acres, and packs and ships apples to wholesalers and grocery chains throughout the Southeast. The company also packs apples for 10 other local growers, up to 200,000 bushels in a regular year, and produces and ships 300,000 gallons of apple cider each year.
With a long-term crop like apples, which can take 3 – 4 years to start producing and then deliver yields for decades longer, sustainability is inherent. Almost from the get-go, Apple Wedge Packers embraced integrated pest management (IPM) to reduce insecticide use and works closely with local soil conservation offices to manage roads and ponds on its property.
"For 41 of the 42 years I've been growing apples, we've worked with either a North Carolina college or a private consultant to implement IPM practices so we only spray when we need to," says Greg. "We're very conscientious of all the materials we use, and are now looking into the possibility of adding solar power to our operation."
Looking to the future, Greg anticipates adding more cold storage to support production, but is fortunate to have upgraded facilities and equipment consistently over the years. What he's really hoping for is more growth on the orchard side of the operation.
"Our markets are greater than our output, so any time we can increase our apple production, it's a good thing," says Greg.
Apple Wedge Packers is supported by a strong team of long-term employees, some with the company for 30 years, as well as family: Greg's wife, two daughters and one son-in-law are all actively involved in the operation. The company is also supported by Farm Credit, which has been Greg's financial partner for 35 years.
"If I had to rate my experience working with Farm Credit on scale of one to ten, I would put it at 11," says Greg. "Other than retirements or promotions, I meet with the same people year after year, and I appreciate that consistency. They have an understanding of my business, and I know that I'm not just a number on a piece of paper."