Spotlight: Bonnie Griffin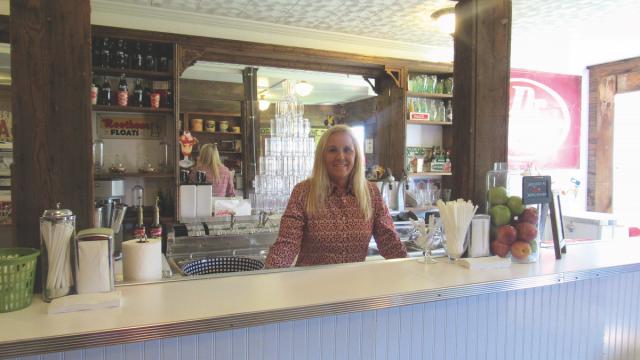 Hometown: Monroe, N.C.
Size of Operation: 40 Acres
Years in Business: 10
Years Working with Farm Credit: 10
In 2008, Bonnie Griffin decided to take the biggest risk of her life and leave her teaching position to purchase a piece of property 30 minutes outside of Charlotte, NC.
The path to success was not an easy road to maneuver as Bonnie searched for financing for the farm. She visited several traditional banking institutions and even applied for grants for women until she finally came across Farm Credit. After being introduced to Farm Credit, she began consulting with her loan officer Rebecca Tarlton. Bonnie was able to detail her business plan and goals, and was quick to point out that if it were not for Farm Credit Aw Shucks Farm might have never been a reality.
Within months, Bonnie had purchased her first piece of property and started her operation with a five acre corn maze. Since then she has added a large animal barn, a haunted trail, two event barns for weddings and parties, an old-fashioned general store, a soda shop, a train car and recently a gem mine. At the end of every year, Bonnie starts planning a new addition to the operation in order to keep the customers coming back for more.
A few favorites of the farm are the restored buildings and train car. Bonnie has always had a knack for taking old things and restoring them. She's made connections along her journey that enabled her to purchase a 1950's soda shop that guests are allowed to come into and get soda floats, ice cream, and pop. In addition to the shop, the old-fashioned general store holds candy from 'way back when'.
Her proudest addition to the farm was the 1860's train car that Animal Planet restored and featured on an episode of their show "Restoration Wild." Animal Planet restored the train car to be accessible for field trips that detailed the history of the original train car and even mapped its route in North Carolina!
Although Bonnie attributes her success to her leap of faith, she admits that it wasn't easy as a woman to enter agriculture. When asked what her advice would be to young women looking to pursue a career in agriculture she responded, "I would tell them to not be intimidated in a predominately male industry and to always be confident." Bonnie went on to further explain that being a woman has given her a key insight in bridging the barrier between the "power of mom" and modern-day agriculture.
Her experience as a teacher and being a mother has allowed her to understand what her customers want and what resonates with them and their children. Aw Shucks Farms hosts thousands of school children each year. They are able to visit the farm, learn about past and present agriculture practices, get outside and get involved.
Bonnie says, "The most satisfying part to me about joining the agricultural industry is being able to see the faces of the children as they learn about it." Between the success of Aw Shucks Farms and being able to share her passion for agriculture, it is safe to say that Bonnie Griffin took the right leap of faith.