Spotlight: Carmen Huffman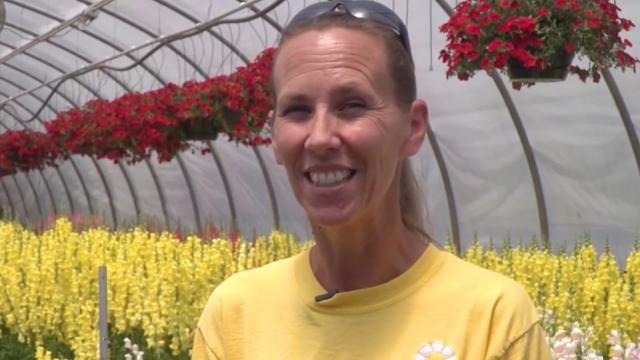 Hometown: Statesville, N.C.
Size of Operation: 1 acre under plastic
Years in Business: 24
Years Working with Farm Credit: 24
Growing up on a tobacco farm and vegetable garden, Carmen Huffman knew that she wanted to stay and work on her family farm in Iredell County. However, Carmen saw an opportunity to take the farm in a different direction by starting to work with a new commodity: cut flowers and plants.
In 1993, Carmen began her business with one greenhouse and support from her family and Farm Credit. Each year she added a new greenhouse to her operation, which allowed her to offer more varieties of plants to her customers. Her business has continued to grow and expand with loyal customers and a strong partner in Farm Credit.
"Working with Farm Credit is great because not only do they understand what we need, but they are also customers of mine," Carmen said.
In 2014, Carmen took a step into the retail market by opening Blooms Garden Center in Conover, N.C. The garden center is named after Carmen's daughter Sierra "Bloom" Huffman. Sierra can often be found helping water plants and assisting customers with her mom on the farm and at the retail garden center. As Carmen has watched her daughter grow at the garden center, she has also been able to watch flowers transform from tiny seeds into something beautiful. They joy that this gives her customers is what she says is her favorite part of the business.
Carmen experienced more opportunities for growth in 2015. She began to work with the town of Blowing Rock, N.C., to provide the plants and flowers for the town's landscape. She often travels to deliver flowers and help plan for the next order to keep the town's landscape fresh and beautiful throughout the year.
Carmen's love for her customers and for her family farm has allowed her to pursue her life's passion while giving back to her community and staying involved with agriculture. She said that Farm Credit has played a vital role in her business.
"They are there when we need them. Whether it's equipment, a new greenhouse, or an operating line, Farm Credit has always been there to help us succeed and grow."