Spotlight: Hickory Nut Gap Farm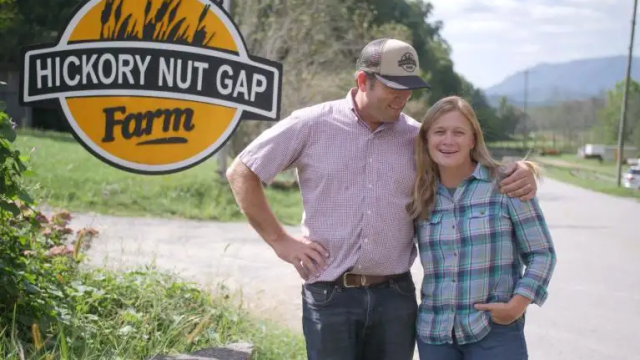 When 4th generation farmer Jamie Ager walks his pastures, he's literally stepping in his forefathers' footsteps on land his family has owned since 1916. That's a strong incentive to maintain and sustain the family's legacy, something the family recognized when the land last transferred ownership: Jamie's aunts, uncles and a slew of cousins voted to put the land into a conservation easement to protect it from development, a real risk with Ashville just 20 miles away.
Jamie and wife Amy continued that commitment to sustainability when they took over the then-inactive operation after college 20 years ago, implementing strong steps almost immediately and establishing beneficial, long-term practices for their livestock operation.
"The first thing we did when we started running the family farm was fence the cows out of the creeks," says Amy. "Sustainability has been at the foreground of what we do here ever since."
With the water protected, the couple turned to replenishing the land along the streams with tree plantings to stop soil erosion, while they also established the livestock management practices that define their brand: grass-fed and pasture-raised cows, hogs, chickens and turkeys. Most importantly, the farm employs rotational grazing, moving cattle from pasture to pasture to provide optimum nutrition while allowing the grasses time to grow between grazings.
"Rotational grazing builds healthy soil, creates more water penetration and contributes to overall ecosystem health," says Jamie. "Healthy pastures absorb carbon dioxide, which helps the environment, and reduce soil erosion, protecting a critical natural resource."
The farm's products are sold primarily direct-to-consumer as butchered meat through the couple's farm stand, as well as online and through a local CSA. When local restaurants and grocery stores expressed interest in stocking and serving locally produced, pasture-raised meats to meet growing consumer demand, the Agers saw an opportunity to strengthen the local ag economy as well as diversify their own income stream: they founded Hickory Nut Gap Meats, which now sources meat from 50 nearby ranchers who follow the same, sustainable livestock management protocols. The meat is sold throughout the Southeast and into New York City in outlets like Whole Foods and through major distributors like Sysco and US Foods.