Spotlight: Metrolina Greenhouses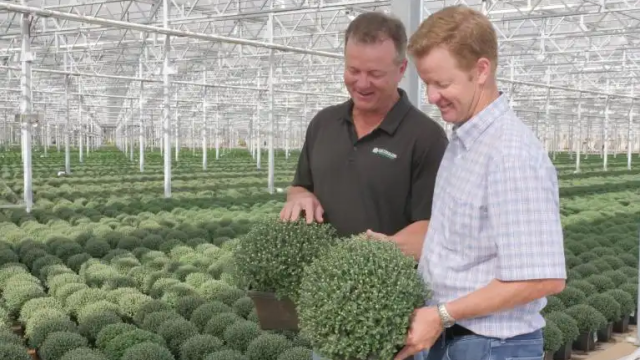 Anyone who's ever tended a garden knows that plants need a lot of water, especially flowering plants. That's why water is especially important at family-owned Metrolina Greenhouses, which produces more than 80 million annual and perennial plants each year, using up to 1.5 million gallons of water every single day. And every one of those gallons is reclaimed water, not from a well or municipal water source.
"We capture every drop of water that hits our greenhouse roofs and parking lots, and reclaim every drop of excess water from inside our greenhouses," says Art VanWingerden, Metrolina's co-CEO along with brother, Abe. Two other brothers, Thomas and Michael, help run daily operations at Metrolina Greenhouses with help from two sisters and their mother, Vickie. Vickie, along with their father Tom, founded the company in 1972.
The captured water is collected in one of the operation's holding ponds, which together can contain up to 200 million gallons of water. The reclaimed water is then used to nurture the plants raised in the 200 acres of greenhouses the company manages in Huntersville, NC, which includes a total of 8 million square feet under glass along with another 8 million square feet of outdoor growing area. The living inventory is shepherded by 1,400 employees and sold through the same number of retail outlets along the East Coast, including household names like Home Depot, Lowes and Walmart. Metrolina also operates a 257 acre perennial growing facility in York, SC that is also able to recapture and reuse water.
"This is a big business, but it's still a family business, and we treat everyone who works here as family," says Abe. "And even though we sell millions of units a year, we all know that the moment that matters is each time the customer picks up a single pot of plants at the store."
With an operation this large, there are other opportunities to implement impactful, sustainable practices. Metrolina relies heavily on "biologicals and beneficials" to manage pests, a natural approach that uses insects and other techniques to dramatically reduce the amount of conventional chemicals applied to the plants. They create their own soil mix that includes reclaimed sawdust from local mills that reduces reliance on peat moss. Metrolina also collects plastic pots and trays from its retailers, inviting customers to return theirs to the store as well, and either reuses them or recycles the plastic – the company recycles approximately 6 million pounds of plastic a year. And when the weather turns a little chilly, the company's biomass heating system kicks in, which uses no oil or gas, and is instead fueled primarily by chipped, reclaimed trimmings from the timber industry.
With interest in home gardening increasing, Metrolina anticipates continuing to grow over the next ten years. As Abe points out, growing just 4% a year requires another 15 acres of growing space, and that kind of growth demands a strong financial partner.
"As our business has grown, so has our relationship with Farm Credit, and we expect that to continue," says Abe. "It's been a strong partnership for 27 years, made even more valuable by the people there we deal with every day."