Spotlight: Mountain Brook Vineyards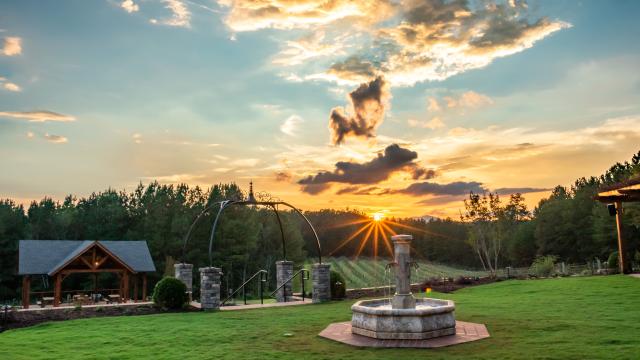 Hometown: Tryon, NC
Size of Operation: 75 Acres
Years in Business: 2
Years Working with Farm Credit: 2
A stone terrace overlooking the rows of grapes at Jonathan and Vickie Redgrave's Mountain Brook Vineyards is a perfect setting to watch the sunset fade softly behind the Tryon Foothills while listening to a bubbling fountain and enjoying a glass of award-winning wine from the vineyard's collection.
With an eye toward offering an extraordinary escape that transports you to an unparalleled experience where you can sip excellent wines in beautiful surroundings, Jonathan shares that plans are under way to expand the 7.5 acre vineyard to around 20 acres under vine over the next few years. The vineyard is part of the Redgrave's 75-acre property that is nestled in the popular western North Carolina tourist region and near the Tryon International Equestrian Center.
Mountain Brook Vineyards currently grows four varietals: Cabernet, Petit Verdot, Pinot Grigio, and Chardonnay. The 2015 Chardonnay was selected as one of the top 12 wines by the North Carolina Fine Wines Society in 2019.
When Jonathan and Vickie purchased the winery in May 2018, they began transforming it. They have added facilities and features that help create their vision of a perfect venue to enjoy fine wine and other local products, such as award-winning cheeses from nearby farms. Visitors are offered the chance to tailor their own experience and enjoy wine tastings at tables either inside or out and at their own pace. "We are trying to provide a fantastic experience. Whether you are from the area or visiting, you get a taste of the extraordinary and the unexpected," says Jonathan. "We also like to support the local economy the best we can."
Mountain Brook Vineyards includes a lovely pavilion and stunning grounds that are popular for outdoor concerts and "movies in the vines" nights. Vickie shares that a new wedding venue is in the works that will include a picturesque arbor and a new winery building that is designed to also host wedding receptions and corporate events. Both will be finished this summer.
A vineyard is a big undertaking, and behind the perfect setting and sublime wine are business decisions that make such a venture possible. Farm Credit Loan Officer Miles Hamrick says that Jonathan and Vickie are passionate and realistic in their approach to their new agriculture venture and in creating amenities that make the Mountain Brook experience one of a kind. Jonathan says the relationships that come from working with Miles and others at Farm Credit are key. "This is a long-term investment and from the standpoint of finding a financial partnership they've been fantastic. They see and understand our long-term vision."