Suspension of Certain Poultry and Feathered Fowl Activities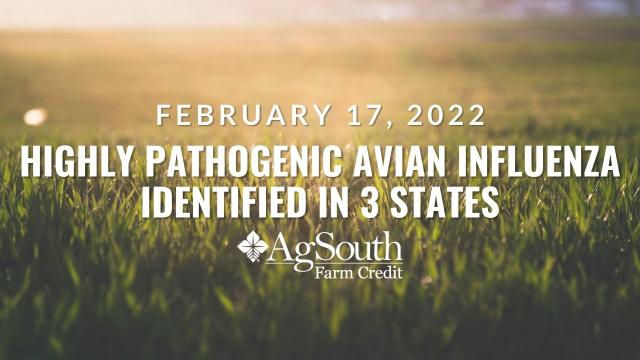 Highly Pathogenic Avian Influenza Identified in Three States
In cooperation with the Georgia Department of Agriculture, AgSouth wants to inform our customers that Highly Pathogenic Avian Influenza (HPAI) has been identified in Indiana, Kentucky, and Virginia. Currently there are NO cases in Georgia. Avian influenza, also called bird flu, is caused by a virus that infects birds such as chickens, turkeys, geese, pigeons and pheasants.
Good biosecurity practices are the best defense against AI infection and poultry producers must take the following measures to protect their flocks:
Move all poultry with outside access indoors.
Implement strict biosecurity.
Monitor flocks for clinical signs consistent with AI.
With HPAI, birds may become quiet, not eat and drink, have diarrhea, and have discolored combs and feet. Birds may also die suddenly with no signs of disease.
Report any concerns to your Veterinarian, State Animal Health Official or Federal Animal Health Official immediately.
More information about HPAI as well as available resources to provide defense against the infection and to help protect poultry producers' flocks at https://agr.georgia.gov/suspension-of-certain-poultry-and-feathered-fow….
If you have concerns about AI in birds, call the Georgia Avian Influenza hotline at (770) 766-6850 or visit https://www.gapoultrylab.org/avian-influenza-hotline/.