Top 5 Best Practices in Making Your First Land Purchase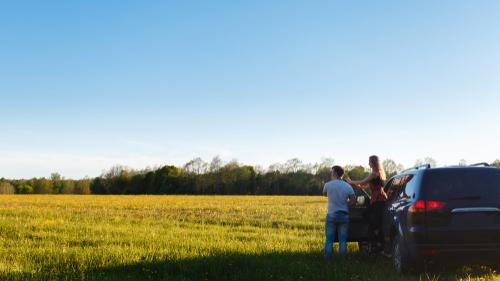 Owning your own land is something you've always aspired to do. Now that you think you are ready to move forward, follow these steps to make your first investment positive, secure and stress-free.
Know What You Can Afford - If you are considering financing, we recommend that you get prequalified for a loan. This will help you understand your "purchasing power" – how much the bank will lend you plus how much you have saved for a down payment. Getting prequalified will let you know the amount you can offer when you find the right piece of land. If you plan to build a home, fencing, barn, pond, etc., be sure to not spread yourself too thin. Plan to have enough cash on hand or equity in the property to make those improvements after the initial land purchase.


Understand the Loan Process - Similar to a home mortgage, the land loan process consists of several stages: application, approval/denial of loan request – then, if approved – appraisal, title search, and closing. There are two things you can to do help the process go smoothly. First, have financial documents (balance sheet, tax returns, etc.) ready to submit with the initial application. Second, have cash for your down payment. Land loans typically require a down payment of 15-25 percent. Keep in mind that each step of the process takes time. With paperwork and finances in order up front, expect the overall process from application to closing to take between 30-45 days.


Use a Real Estate Agent Who Specializes in Land - Buying land is different than purchasing a home, so working with a licensed Realtor who specializes in land will save you time and stress. A local land broker can help you narrow down your search, point out any potential red flags and successfully negotiate an offer. These professionals understand the different markets and can help educate you on land values, which can change quickly in different geographic areas. Work with a Realtor you connect with, one who understands your needs and wants and who specializes in the location or property type you desire.


Use an Attorney Whose Business is Real Estate - Generally, the buyer selects an attorney to close the deal. Use an attorney whose primary business is real estate transactions. Real estate attorneys understand the importance of closing on time, are able to review the closing documents prior to the actual closing for accuracy and are familiar with the loan process and lender's requirements. If you would like a suggestion on who to use, AgSouth can provide recommendations or information to help guide you in the right direction.


Work With a Lender Who Specializes in Land Financing - Because rates and terms on land loans are different than on home loans, most lenders limit their terms to 10 years while other will not lend for raw (unimproved) land. Working with a lender that understands and is accustomed to land lending will make the process of borrowing smooth and stress-free. Specialized lenders can help guide you through the land buying process, and will work hard to ensure your success.
AgSouth offers fixed rate land loans up to 20 years, a benefit to you in a rising rate environment. We can guide you through the loan process because we finance more land than any other lender in our footprint. We make lending fast and easy because of our knowledgeable and experienced staff. If you are ready to make an offer on your dream property, visit AgSouthFC.com to save time and begin the process.