2021 Farmers Market Grant Information and Application
AgSouth supports local farmers markets and encourages our local communities to think outside the store when planning their grocery trips. We have committed to providing $25,000 in $500 grants to farmers markets in our coverage area during 2021. 
The 2021 Think Outside the Store Farmers Market Grant is now closed.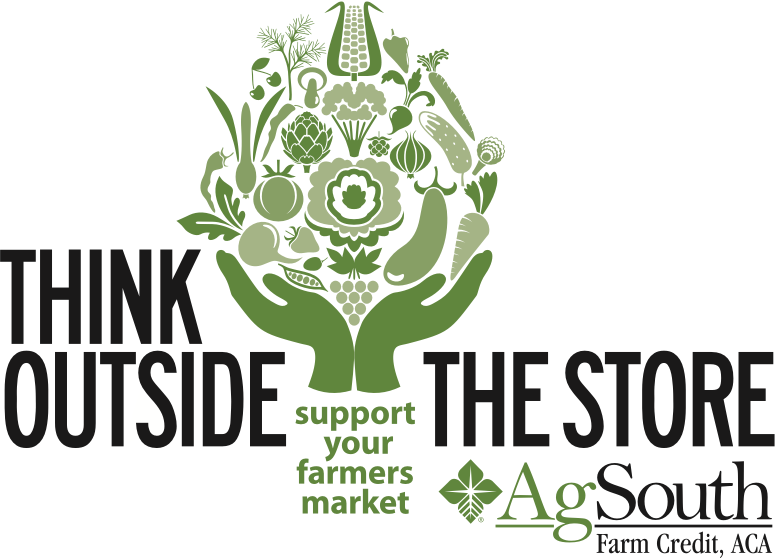 Congratulations to our 2021 Farmers Market Grant Winners:
| | |
| --- | --- |
| Aiken County Farmers Market | Aiken, SC |
| Appling County Farmers Market | Baxley, GA |
| Avondale Estates Farmers Market | Avondale Estates, GA |
| Brookhaven Farmers Market | Atlanta, GA |
| City of Fountains Inn Farmers Market | Fountain Inn, SC |
| Clemson Farmers Market | Clemson, SC |
| Colleton Museum & Farmers Market | Walterboro, SC |
| Coweta County Farmers Market | Newnan, GA |
| Decatur Farmers Market | Atlanta, GA |
| East Atlanta Village Farmers Market | Atlanta, GA |
| Farmers Market Bluffton | Bluffton, SC |
| Foothills Heritage Market | Fair Play, SC |
| Forsyth Farmers Market | Savannah, GA |
| Fort Mill Farmers Market | Fort Mill, SC |
| Gaffney Station Farmers Market | Gaffney, SC |
| Grant Park Farmers Market | Atlanta, GA |
| Greer Farmers Market | Greer, SC |
| Grow Newberry SC | Newberry, SC |
| Healthy Carolina Farmers Market | Columbia, SC |
| Henry County Farmers Market | McDonough, GA |
| Hub City Farmers Market | Spartanburg, SC |
| Johnston's Farmers & Artists Market | Johnston, SC |
| Kershaw County Farmers Market | Camden, SC |
| Kiwanis Fairgrounds Farmers Market | Griffin, GA |
| Lancaster County Farmers Market | Lancaster, SC |
| Landrum Farmers Market | Landrum, SC |
| Lilburn Farmers Market | Lilburn, GA |
| Low Country Street Grocery | Charleston, SC |
| Main Street Farmers Market | Statesboro, GA |
| Market at Icehouse | Lexington, SC |
| McCormick Farmers Market | McCormick, SC |
| Moncks Corner Farmers Market | Moncks, SC |
| Monroe Downtown Farmers Market | Monroe, GA |
| Monticello Farmers Market | Monticello, GA |
| Norcross Community Market | Norcross, GA |
| Oakhurst Farmers Market | Atlanta, GA |
| Oconee Farmers Market | Watkinsville, GA |
| Peach Tree Road Farmers Market | Atlanta, GA |
| The Market on Maple | Sylvania, GA |
| The Wednesday Market | Meansville, GA |
| Travelers Rest Farmers Market | Travelers Rest, SC |
| Tucker Farmers Market | Clarkston, GA |
| Union County Farm and Craft Market | Union, SC |
| Way Green Farmers Market | Waycross, GA |
| Wayne County Farmers Market | Jesup, GA |