Buy or Build: Here are 6 Questions to Help You Decide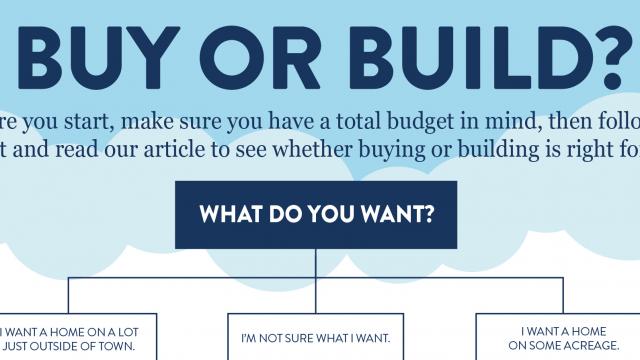 We've created a handy flowchart and article discussing the questions you should ask yourself when deciding to buy or build.
Should you buy a home, or build it? It's a question we hear people ask all the time. The answer is more complicated than "Can I afford it?" since cost is only one of the determining factors. The value of time, personality, current circumstances and future plans play a huge role in deciding whether or not you should buy or build your future home. Each route has pros and cons. We recommend you ask yourself these 6 questions before you choose to buy or build. 
[Short on time? Use the flowchart below for some quick guidance.]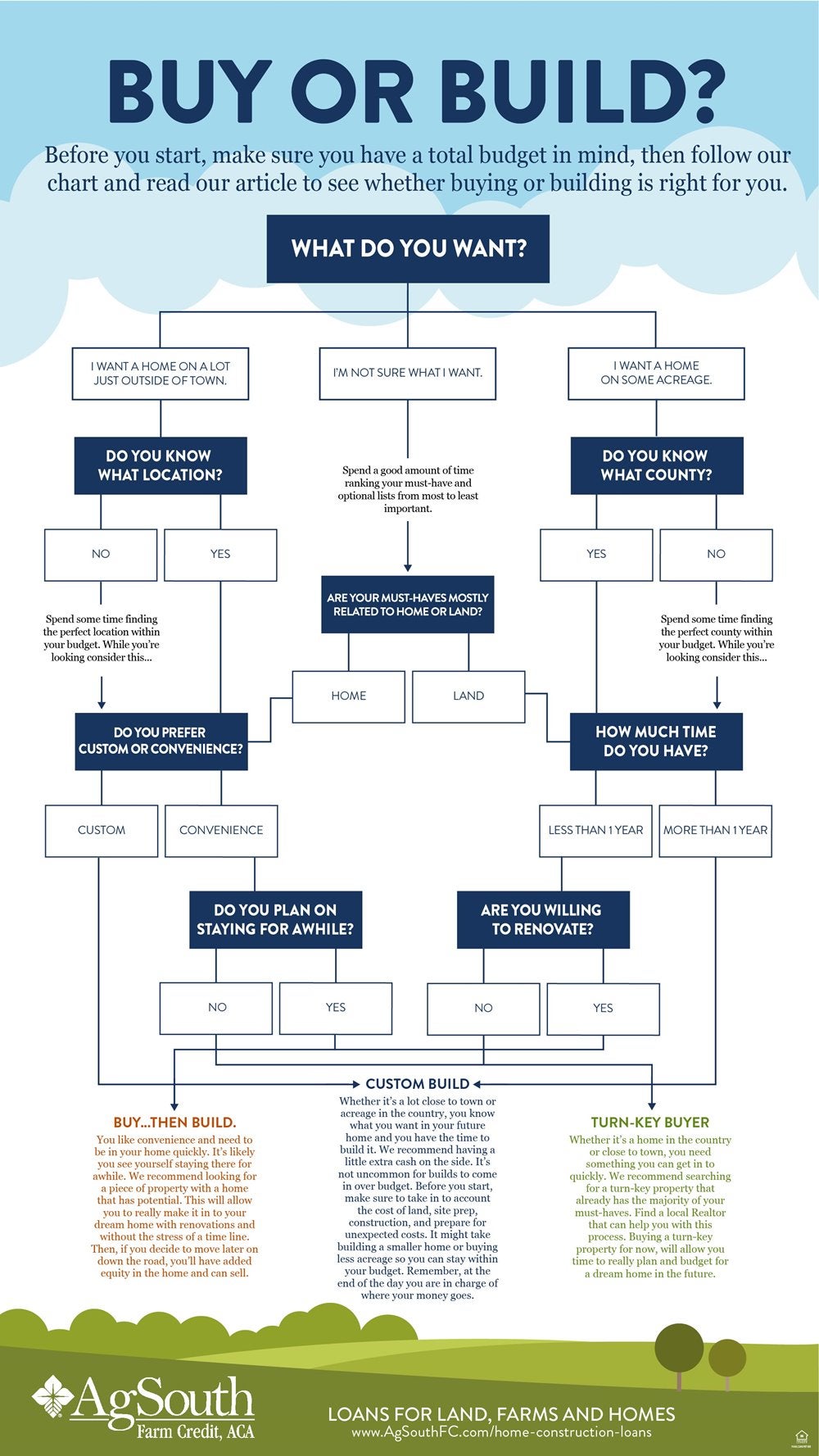 1. What's My Budget?
Regardless of which direction you ultimately choose, we recommend spending a considerable amount of time setting an overall budget first. If you are truly on the fence about whether you should buy or build, this is crucial first step in guiding you to your answer. Before you even start looking at floor plans or searching for homes in country, set a hard number. This will help you remain realistic as you consider your options.
2. Where Do I Want to Live?
Location is going to affect the price whether you're buying or building. A home in the suburbs is generally less expensive than a home in a city, but you could end up paying more per square foot in one neighborhood compared to another because it's closer to a better school district or more affluent area. Similarly, a tract of land in one county might be cheaper per acre than a tract in a neighboring county based on how desirable the area is to live. So ask yourself – Is the location of my home important or can I be flexible to get exactly what I want?
3. What Do I Want in My Home?
This leads us to our next consideration - what do you actually want in a home?
 
Grab a piece of paper, make two columns and title them 1. Must Have and 2. Optional. Differentiate the qualities of your home that are a necessity and what you could either do without or put off for a few months or years. When you're done, pay close attention to what is in your must have column and rank them from most to least important.
 
Be sure to consider which is more important - the quality of the land or the quality of the home. Knowing this can you help guide your decision. Is a 4 bedroom house with a pool and a shop on 10 acres a must have? Or how about a farm house with a wrap-around porch, real hardwood floors, and a pond on the back of the property? You might be able to find that as-is in your price range in the right location. But what if you can't?
 
Are you willing to purchase a home that doesn't have very many of your must haves, but sits on the perfect tract of land? You can always renovate later, after all. Or are you willing to sacrifice on the land if the house on it already has most of the qualities you've been searching for? What if you found the perfect piece of raw land with no home on it at all? Does the price of the land allow enough left over in your budget to build a home that you're happy with?
4. Do I Want Convenience or Custom?
For some, the convenience of buying a home outweighs the headache of building one from scratch. For others, the customization of a home that meets all of their wants and needs far outweighs any complications or stresses that may come with building a home.
 
When building, you're in charge of picking out everything from ceiling fans and cabinet hardware, to shoe molding and toilets; not to mention, the big decision of where the house sits on the property.  If you love this level of control in the details, building may be for you.  
 
It's important to remember that your budget should drive whatever decision you ultimately make. Custom homes can, of course, be built within the same cost per square foot as homes for sale but we see two common mistakes when people decide to build:
 
They forget to factor in additional costs associated with building. Things like the cost of the land or lot, contractor fees, and infrastructure costs like grading, running power, installing a septic system, and drilling a well are often forgotten. This might mean building a smaller home to stay in budget, with the added expenses that come with land.
They make upgrades during the building process that don't fit in budget. We rarely see a home construction that comes in on budget. We see an average of 10% overage on costs. While this can result from a variety of things, often it's because of the higher quality finishes people select during the construction. Our suggestion – make sure your contractor knows your level of finishes up front so they can give you the most accurate quote they can before you start. It doesn't hurt to have some cash reserves on hand for this very reason.
Knowing your personality type, and what you want in your home can help determine if convenience or customization is best for you. If it looks like you're leaning toward convenience, remember that you can always do renovations to the home you choose to purchase later.
 
[For an inside look at the home construction process, check out this article following an AgSouth couples journey.]
5. Do I Want to Live Here For Now or Forever?
What stage you are at in life will play a huge factor on deciding if buying or building is right for you.
 
This can depend on a number of things. Is there a possibility your job might require you to move in the near future? How many kids do you have and do you plan on having more? Do you see yourself living in the home for 10 years? 20 years? Forever?  These kinds of thoughts can seem overwhelming and life can, afterall, be unpredictable. Take an honest look at your current situation and what your plan is 10 to 20 years down the road. This insight can help make a decision that's right for you.
 
If you're planning on this being your forever home, it may be worth taking the extra time to find your ideal location, the perfect lot or tract, and building it to your exact wants and needs.
 
If you plan on building with the possibility of selling down the road, take in to consideration that others might not have the same needs or tastes as you. Too much customization might deter potential buyers in the future.
6. How Much Time Do I Have?
If you're in a hurry to move, then purchasing an existing home is likely the best option for you.

Construction takes time – you need to find the perfect lot or acreage, select the right house plan, find a contractor and architect, and plan all the little details from flooring to paint. The construction process itself may take as long as a year to complete, and many things can affect the timeline that will be out of your control. Will the appliances and fixtures come in as scheduled or will the contractor have to work around the delay? Will the weather cooperate while the contractors are working on the framing?

If you're considering a move to the country, there will be additional things to factor into your time frame as well. How difficult a process will it be to get power and a septic tank system in place? What will the "perc" test say? Is the land zoned correctly for a dwelling? Do you have a legal easement to the property? Working out the details is manageable, but does take time. If time is of the essence in selecting a home, then you may want to consider buying rather than building.
So…Should You Buy or Build?
Take some time considering the factors we've listed above. Along the way, take note of any questions that pop up and consult with professionals in the area. If you're looking to buy land, contact a realtor that specializes in land sales. If you're thinking about buying a home, make sure your realtor knows the area and can answer questions about the neighborhood surrounding it. If you're wanting to build, compare multiple builders and take into consideration both price and reputation.
AgSouth Knows Land, Farms and Homes.
Deciding to buy or build can be a stressful process. AgSouth has been making home loans for more than a century, and we're experts when it comes to financing your dream home – whether you need a home purchase loan or a home construction loan. We'll be with you every step of the way to offer our guidance and walk you through the loan process. Visit us to find out which loan is right for you or call 844-AGSOUTH and ask for a loan expert in your area.