Interested in a Country Home? Here are 4 Things to Know About Financing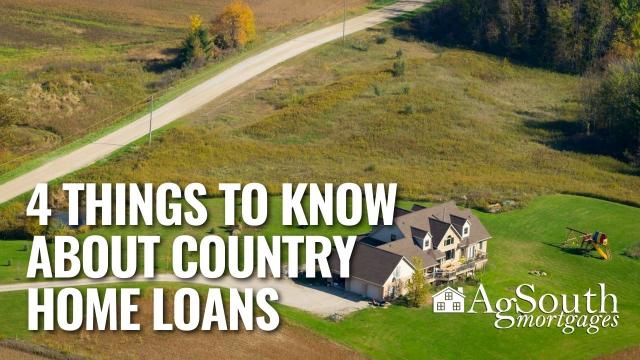 Buying a home with acreage is a huge investment and we want you to be as comfortable and happy about the loan process as possible. Here are four things you need to know about financing country homes. 
It can be difficult to find a lender who can do home and acreage in just one loan. At AgSouth, this is our specialty! In our previous blog article we discussed 6 Things to Know Before You Buy a Country Home.  A common misconception is that AgSouth Farm Credit only does land loans. However, we have our own mortgage department - AgSouth Mortgages. If you are thinking about purchasing an existing home with acreage-there are several things that can help smoothen the process from start to finish.
1. Understand the financials
When buying a home with acreage, it is important to know the financials involved before getting started with your loan.
Our requirements include:
Minimum of 5% down
Optimal credit score
Debt to income ratio is less than 45%
Don't open any new debts during loan process or cosign on a loan with anyone
Maintain your job, bills, and maintain a clean record of credit during the loan process.
2. Be knowledgeable of the loan process
Purchasing a home can be a stressful experience. We try to make the process as seamless as possible.
The mortgage lender will contact the customer and ask questions about their work history, financials, etc.
The mortgage lender will email an application to the borrower/borrowers.
The mortgage lender then completes a loan assessment which is done within 3 business days.
Required documents are sent into underwriting, i.e.: Tax returns, pay stubs, w2s etc.
Title work and appraisal are ordered by our team once the loan is in process-usually takes between 30-45 days (time is dependent on market demand and availability of appraisers)
Schedule closing with attorney's office. (Timeframe is dependent on attorney's availability)
Close the loan!
3. The appraisal is vital to the success of the loan
Something a lot of customers overlook is how important the appraisal is-especially when buying homes with acreage.
The appraisal is the determining factor if the loan will go through or not.
The home has to appraise for the loan to go through-not just the acreage.
Making sure that both the home and property are in good shape is imperative (no current renovations, structurally sound, etc.)
4. Choose your mortgage company wisely
When purchasing a home with acreage, it is important to work with a mortgage company that understands your specific needs.
Here are some advantages of choosing AgSouth Mortgages:
Purchasing a home and acreage can all be done in one closing-as long as the home appraises for 35% of the loan value.
Other lenders may have stricter regulations on home and acreage bundles. For example, some lenders may only be to bundle up to 5-10 acres. AgSouth can normally accommodate larger acreage (restrictions do apply).
We specialize in rural loans for homes with residential intent.
Farm Credit has had a reputation for consistency and excellence and for over a hundred years.
You will be working with someone local and your business is staying local. Our lenders greatly value our customers business and we are happy to serve them.
Questions?
If you're interested in buying a country home in South Carolina or Georgia, one of our local mortgage loan officers would be more than happy to help. Contact a local mortgage originator. 
Not in South Carolina or Georgia? Find Your Farm Credit Association.
---