Land Loan FAQs: Why are Land Loan Rates Higher Than Home Mortgages?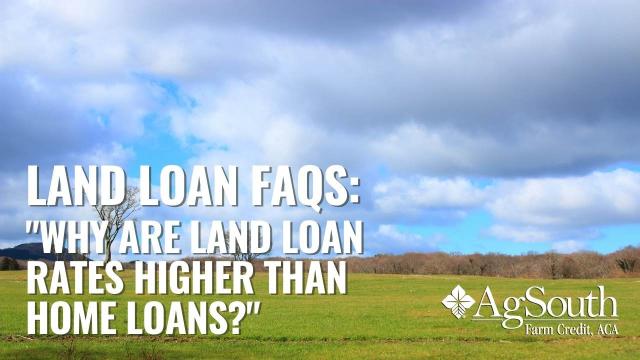 This edition of our FAQ Land Series covers the common question of why interest rates are higher on land loans than they are home mortgages.
Q - Why are land loan rates higher than mortgages?
A – Many people wonder why rates differ between home and land loans, but also between the types of land loans. It all depends on potential risks. Land loans have a higher interest rate because they pose a greater risk than home mortgages. This risk lies in what loan you'd be more likely to continue to make payments on, in the event of financial stress.

Relationship Manager Cassie Justen explains, "If a borrower experiences financial hardships they might be more inclined to make the payment on their home before making the payment on a tract of land."

Due to the risk associated with land loans, the rate is going to be higher than a home mortgage. This risk is also the reason that some banks do not finance land.

Finally, interest rates can be affected by your own financial situation. The better your financial situation, the better your rate will be.
Wonder what your payment might be? Check out our land loan calculator.

Questions?
If you're interested in buying land in South Carolina or Georgia, one of our local loan officers would be more than happy to help. Find an AgSouth Branch near you!
Not in South Carolina or Georgia? Find your Farm Credit Association.