2023 Farmers Market Grant Information and Application
We are currently in the process of expanding our grant program. The announcement should be coming early spring and will be posted on our website and social media accounts. Please check back for updates. 
2022 Farmers Market Grant 
The 2022 Farmers Market Grant Application is Now Closed
AgSouth supports local farmers markets and encourages our local communities to think outside the store when planning their grocery trips. We have committed to providing $25,000 in $500 grants to farmers markets in our coverage area during 2022. The grant is used towards marketing and advertising for the market. Applicants must provide a detailed marketing plan for the funds, and a complete list of agriculture vendors.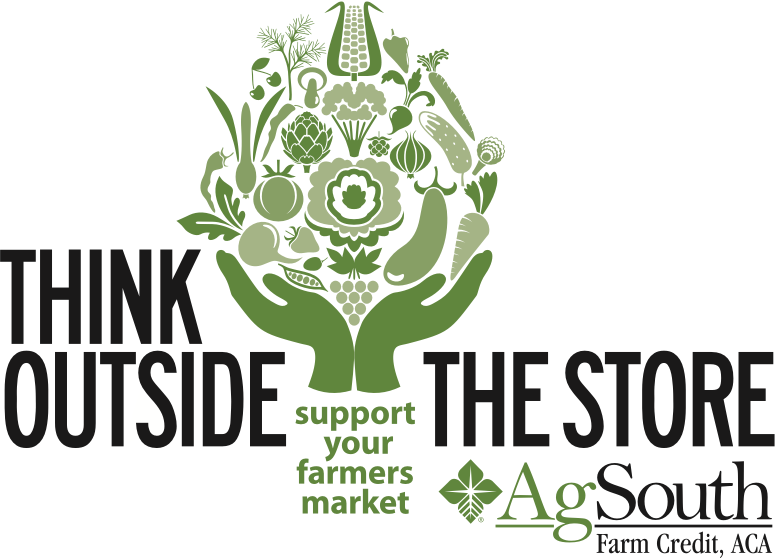 Congratulations to our 2022 Farmers Market Grant Winners:
| | | |
| --- | --- | --- |
| Aiken County Farmers Market | Aiken | SC |
| Athens Farmers Market | Wintervillle | GA |
| Brookhaven Farmers Market | Brookhaven | GA |
| Central SC Farmers Market | Central | SC |
| Church Street Farmers Market | Douglasville | GA |
| Clemson Farmer's Market | Clemson | SC |
| Clemson Sandhill Farmers Market | Columbia | SC |
| Colleton Museum & Farmers Market | Walterboro | SC |
| Community Supported Grocery | Charleston | SC |
| Cotton Mill Farmers Market | Carrollton | GA |
| Coweta County Farmers Market | Newnan | GA |
| Decatur Farmers Market | Atlanta | GA |
| DORA Farmers Market Pavilion | Orangeburg | SC |
| Easley Farmer's Market | Easley | SC |
| East Atlanta Village Farmers Market  | Atlanta | GA |
| Farmers Market Bluffton | Bluffton | SC |
| Forsyth Farmers Market | Savannah | GA |
| Fort Mill Farmers Market | Fort Mill | SC |
| Gaffney Station FarmersMarket | Gaffney | SC |
| Greenwood County Farmers Market | Greenwood | SC |
| Greer Farmers Market | Greer | SC |
| Healthy Carolina Farmers Market | Columbia | SC |
| Hub City Farmers Market | Spartanburg | SC |
| Johnston Farmers & Artist's Market | Johnston | SC |
| Lancaster County Farmers Market | Lancaster | SC |
| Landrum Farmers Market | Landrum | SC |
| Lilburn Farmers Market | Lilburn | GA |
| McCormick Farmers Market | McCormick | SC |
| Monticello Farmers Market | Monticello | GA |
| Morningside Farmers Market | Atlanta | GA |
| Norcross Community Market | Clarkston | GA |
| Oakhurst Farmers Market | Atlanta | GA |
| Oconee Farmers Market | Watkinsville | GA |
| Peach Tree Road Farmers Market | Atlanta | GA |
| Peachtree City Market | Peachtree City | GA |
| Ridge Spring Farmers Market | Ward | SC |
| Saturday Market | Greenville | SC |
| Snellville Farmers Market | Snellville | GA |
| Statesboro Main Street Farmers Market | Statesboro | GA |
| Summerville Farmers Market | Summerville  | SC  |
| The FARM Center Seneca | Richland | SC |
| The Grant Park Farmers Market | Atlanta | GA |
| The Market on Maple | Sylvavnia | GA |
| Travelers Rest Farmers Market | Travelers Rest | SC |
| Tucker Farmers Market | Clarkston | GA |
| Union County Farm & Craft Market | Union | SC |
| Virginia Highland Farmers Market | Atlanta | GA |
| Way Green Farmers Market | Waycross | GA |
| Wayne County Farmers Market | Odum | GA |
| Your Faith Farmers Market | Fairburn | GA |