AgSouth Farm Credit Now Accepting Applications for the Growing Our Communities Grant
5/10/2023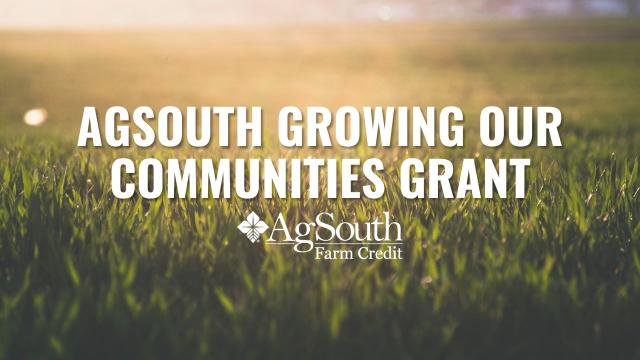 AgSouth Growing Our Communities Grant Now Accepting Applications
STATESVILLE, NC – The AgSouth Farm Credit –Growing Our Communities grant application period recently opened. This grant will be a combination of Carolina Farm Credit's previous program, Corporate Mission Fund, and AgSouth Farm Credit's Think Outside the Store Farmers Market Grant program.
"Our Growing Our Communities Grant Program is another way for AgSouth Farm Credit to enhance the agricultural and rural communities we serve across Georgia, North Carolina and South Carolina," said Vance Dalton, CEO, AgSouth Farm Credit, "These grants help provide funding for many great organizations that are making differences in people's lives in their local communities."
The Growing Our Communities grant program operates on an application-based grant system. Non-profit organizations may apply for up to $5,000 per year to help in their endeavors to promote agriculture, as well as stimulate their local agricultural economy. Grant applications will be accepted from April 1 to June 30, 2023. Project proposals will be reviewed, and grants will be awarded in the fourth quarter of 2023.
To qualify for a grant, non-profit organizations must be located within the regions of Georgia, North Carolina, and South Carolina geographic area where AgSouth Farm Credit conducts business. For more information and to apply, please visit AgSouthFC.com/Outreach.
---
About AgSouth:
AgSouth Farm Credit provides loans for land, equipment, and production agriculture; crop insurance; leasing; and home mortgages. AgSouth is an equal housing lender and an equal opportunity provider. The Association is headquartered in Statesville, NC.