Nick Martin Named AgSouth Chief Lending Officer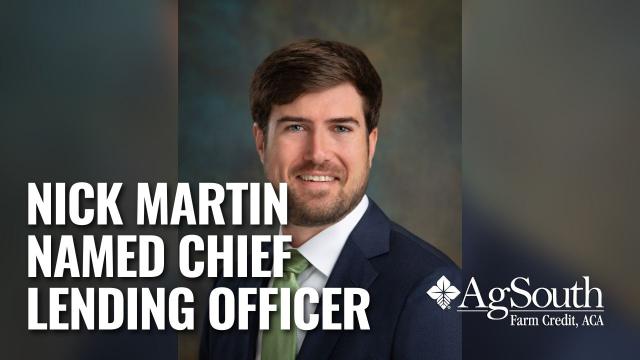 AgSouth Farm Credit Announces New Chief Lending Officer
STATESBORO, GA. (January 6, 2022): AgSouth CEO, Pat Calhoun is pleased to announce that Nick Martin has been chosen to succeed Robbie Haranda as chief lending officer of the Association. Haranda, who retired November 30, 2021 after 34 years of service with Farm Credit, worked closely with Martin over the past few months to ensure a smooth transition.

Calhoun says, "Nick was the perfect choice to lead our business development efforts as chief lending officer. He has broad exposure as both a lender and a regional manager during his tenure with AgSouth. His insight into what it takes to successfully meet our mission was critical in the decision to ask him to join our executive leadership team."

Martin grew up on a family poultry farm in Carnesville, Georgia and is a graduate of the University of Georgia with a degree in Agricultural and Applied Economics. He is a resident of Statesboro, Georgia and is married to Alyssa Martin and has one child, Brooklyn.

Bringing more than 11 years of experience with Farm Credit to his new position, Martin began his career as a loan officer with AgSouth Farm Credit in 2010 working out of the Thomaston branch. He was promoted to regional business development manager in 2017, supervising loan officers in the Carrollton, Griffin, Greenville, Madison, and Thomaston branches.

"I'm excited to serve our member borrowers throughout the AgSouth territory and ensure that AgSouth will continue to be able to serve agriculture and our rural communities well into the future," Martin says.

About AgSouth
AgSouth Farm Credit provides loans for land, equipment and production agriculture; crop insurance; leasing; and home mortgages. The Association is headquartered in Statesboro, Ga.
For more information about AgSouth or this announcement, please contact Lauren Rose, Marketing Specialist at 864-224-6804 x 8322.
###