Record Keeping Can Help Make Your Farm Successful Now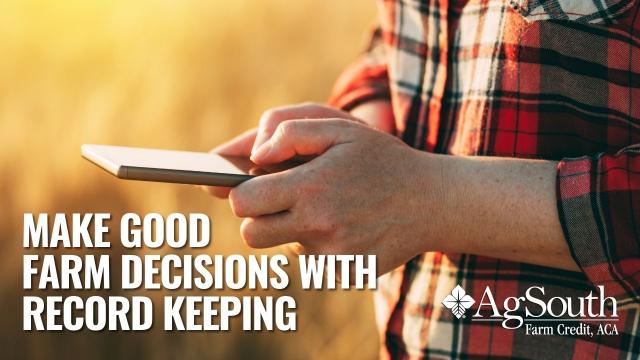 While record-keeping may not be the most fulfilling part of your job as a farmer, it is one of the most beneficial and essential tasks you will do for your operation. Here is how record-keeping can help you start making good farm decisions today!
Make Good Farm Decisions with Record Keeping
You set out to be a farmer because you have a passion for it - you love the outdoors, enjoy seeing a calf take its first steps, and are fulfilled by doing your part to provide for the world's needs. When pursuing your life in farming, you probably didn't plan on spending a lot of time in front of a computer or a ledger to work on record-keeping. 

While record-keeping may not be the most fulfilling part of your job, it's one of the most beneficial and essential tasks you will do for your operation. After all, the key to making sound decisions right now is to have as much information at your fingertips as possible.  Information leads to knowledge, and knowledge leads to success.
Why Should You Keep Records?
With new financial challenges, demand for transparency and traceability, and ever-increasing regulatory requirements, accurate and informative records are an absolute necessity in today's environment.
1. Decision-Making
Keeping accurate financial and production records allow for year-to-year comparisons that help you make wise management decisions, find irregularities in your operation, and identify highly profitable areas. And when analyzing these records, they can help you determine your true profit and loss, and whether you should continue, change or stop production practices.  
 
For example, cattle producers may want to improve efficiencies by keeping records on breeding and calving, weight gain and vaccinations. With an increase in the demand for livestock traceability on the farm, keeping records on individual animals is critical.
 
Row crop farmers may want to keep records on a field-by-field basis on planting dates, varieties, spray applications and yield and use that information to determine the profitability of individual fields, which drives planting and input application decisions. And regulations today require accurate records of pesticide use. 
2. Obtaining Credit
Record-keeping also comes in handy when you need a new loan for your farm. All lending institutions require you to provide financial records to obtain credit. And when you approach a lender with your complete financial records, it will give them a strong impression of you as a farmer.
3. Added Protection
Keeping accurate and detailed records offers a certain level of protection for you if there are questions and needs for specific answers. For example, keeping a record of pesticide spray application dates, times, rates, and weather conditions could serve to protect a farmer in the event of a drift accusation. Keeping a record of animal medication date, type and dosage could serve to protect a producer in the event of a disease outbreak or meat contamination.
Ways You Can Record-Keep
Nowadays, technology is providing new ways to keep records and conveniently organize them for future reference and analysis. There are software packages available that greatly improve and even simplify these tasks.

Here are a few options:

1. Accounting ledgers and journals are cheap, simple and easy to carry to a pasture or field so you can record essential information as soon as possible. These allow you to have everything conveniently in one place and take it wherever!

2. Excel workbooks may take a little time to figure out, but they can be a tremendous help with quick and accurate calculations, specific analysis and simple organization. In our Understanding Farm Financials two-part series we give you a downloadable worksheet and walk you through filling out income statements, balance sheets, and a cash flow excel.

Read Understanding Farm Financials Part 1.

3. Software programs (QuickBooks, Quicken, etc.) are beneficial for financial records, and some provide detailed reports involving payroll, inventory and specific commodity tracking. These programs usually have an annual price, but really simplify the process. Here's a quick look at QuickBooks!

When it comes to record-keeping, everyone is different. One of the options listed above may work perfectly for you or a combination of them could be beneficial. It really comes down to what works best for you and your operation.
 
Keep in mind that local extension personnel and many private agricultural companies are constantly looking to make this process easier. There are plenty of resources for you to use so you can find what fits your unique operation.
 
Gathering and analyzing data on your operation may not be the most exciting part of your day, but doing so will be more beneficial to you in the long run. 
Questions?
We hope this information is helpful! If you're looking to purchase land, farms or homes in South Carolina or Georgia and have questions about the loan application process one of our loan officers would be more than happy to help. Find an AgSouth Branch near you!

Not in South Carolina or Georgia? Find your Farm Credit Association.