Spotlight: Amy Howard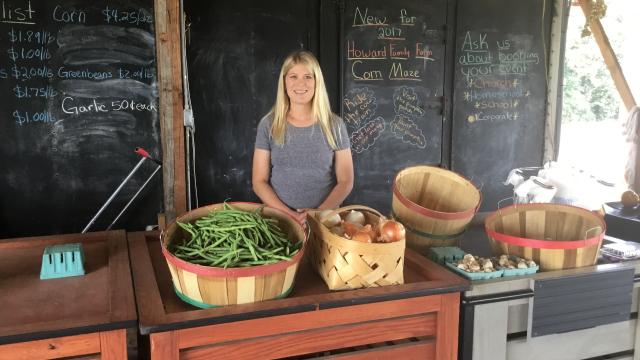 Hometown: Harmony, N.C.
Size of Operation: 100 acres
Years in Business: 87
Years Working with Farm Credit: 18
The farm has been in his family since the 1930's. It originally started with his great grandfather who grew tobacco until 1985 when they added strawberries and sweet corn. After a few years of strawberry farming, they were able to see that they could reuse the plastic used to plant strawberries for pumpkins as well. Now the operation hosts a variety of produce including strawberries, sweet corn, pumpkins, tomatoes, squash, and recently cut flowers.
The Howard Family has been working with Farm Credit from the very beginning. "If it wasn't for Farm Credit, things wouldn't get planted in the field every year. We're thankful to be able to call our loan officer and get the funds needed to get the year started."
Since joining the farm, Amy has quickly taken on the responsibility of customer service for the operation. She manages the on farm produce store, travels to local farmers markets, and oversee the CSA program. The CSA program has 54 customers and continues to grow each year. She is actively involved with the process from planting all the way to harvesting the crops.
Although Amy did not grow up in agriculture, she says that she gets inspired working on the farm every day. As the agriculture industry changes, Amy is prepared to bring new and exciting things to the farm!
"People seem to want more of an event now, they want to go to the farm or farmers market with their family and make a day out of it." Recently, Howard Family Farms has added a corn maze, a "cow train," and pumpkin painting. Through daily customer interaction, Amy strives to bridge the gap between the farmer and the consumer.
Amy was quick to mention that, "People want to know where their food comes from and how it is raised. Consumers don't always understand the differences and similarities between conventional and organic." Since Amy is normally the first person that people see at either the farm or the farmers market, she does her best to answer questions and provide information. She admits that it can be difficult at times because people want to see the farmer, but tries to overcome this by explaining that she is the farmer too.
When asked what her advice would be to young women looking to pursue a career in agriculture, Amy responded, "GO FOR IT! Our fourteen-year-old daughter says she wants to farm when she graduates high school. She grows the flowers for the operation from starting them in the greenhouse, planting them in the ground, and cutting and selling them." The family could not be more proud of their daughter's passion for agriculture.
As a woman in agriculture, Amy faces a common challenge of balancing the role of both mom and full time farmer. "There are some missed ball games, missed meals, and 80- hour work weeks; but I love raising my family on the farm and interacting with customers every day."