Spotlight: Patterson Farms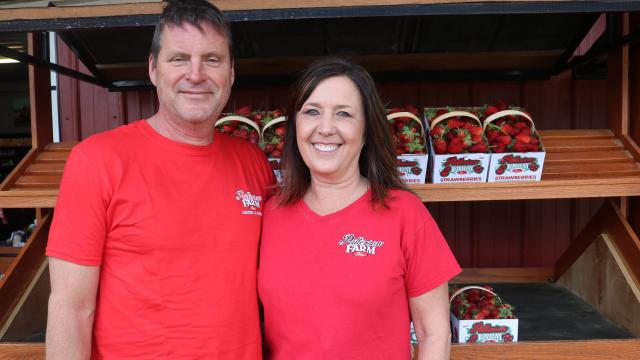 Hometown: China Grove, NC
Size of Operation: 450+ acres
Years in Business: 20+
Years Working with Farm Credit: 20+
Patterson Farm is nestled in the Piedmont region of China Grove, North Carolina. This fourth generation family farm teems with both family members and workers who oversee a plethora of agritourism activities for farm visitors along with a thriving produce operation that requires the latest in crop science and plant production to keep it supplying grocers across the United States and into Canada as well at its on-farm market.
The Pattersons grow a wide range of fruits and vegetables on their 450-acre farm: strawberries, tomatoes (they are one of the largest tomato growers in the state), cucumbers, bell peppers, watermelon, squash, and zucchini. In the winter, poinsettias add a seasonal flair for holiday decorating and gift-giving.
As part of the greater Charlotte metropolitan area, Patterson Farm is a destination farm for city dwellers, suburbanites, and the news media when favorite crops are in season or when they want to be out in open spaces on a farm setting. "The Pattersons want to introduce people to agriculture; they truly love agriculture and want to share it," says Farm Credit Loan Officer Scott Lee.
Doug and Michelle Patterson, along with other family members, are always on the lookout for new ideas. "We try to add different crops or more acres of fruits and vegetables," says Doug. "We also try to add new activities every year because we get a lot of repeat customers and we would like for them to have a different experience every year when they come."
Among popular activities are farmer for the day, geocaching adventure tour, summer fun camps, strawberry patch tour and a wide range of activities for school groups, special needs days, senior outings, or corporate groups. While Doug says that Farm Credit understands his family's farm needs, Scott Lee says Patterson Farm is a true testimony of an innovative family farm. "They are a farming family with a vision to make room for other generations coming on, to take it to the next level. They also give back a lot to the community."