AgSouth Patronage Program Distributes Nearly $52 Million
3/22/2022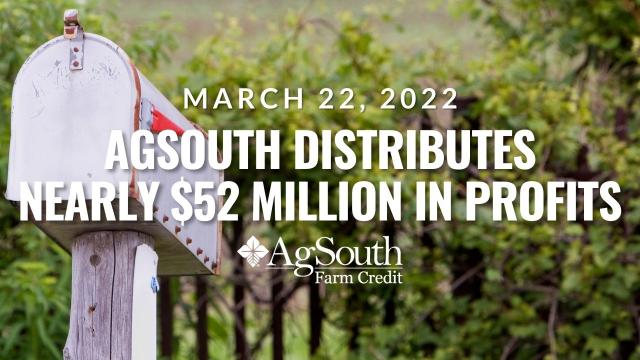 AgSouth Patronage Program Gets a Makeover
STATESBORO, Ga. (March 22, 2022) – We are excited to announce that the 2021 Patronage will be in a 100% cash distribution! $32 million of AgSouth's 2021 profits will arrive in our member's mailboxes this March. 
If you've been a member for a few years, you are familiar with getting two checks each year – first, a check for the 70% of the "allocated surplus" from 5 years ago and second, a check for the 30% of the "cash Patronage" from the previous year. Starting this year, you will receive 100% of the Patronage from 2021! Allocated surplus from previous years will continue to be distributed upon Board approval. In February, the Association distributed $20 million from the 2016 allocated surplus bringing the total amount distributed this year in cash to nearly $52 million.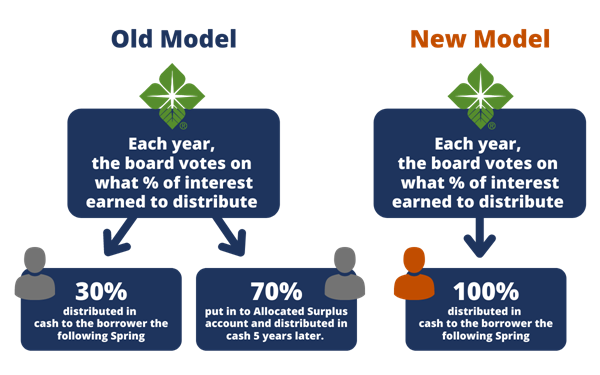 Why the change?
Our commitment is to our members and how we can better improve their quality of life. The Association has a strong financial position and is well capitalized. This strength allows us to distribute more of our profits to our members at one time. 
What is Patronage?
As a Cooperative, one of the many benefits of being a member is receiving a portion of our profits. Our profits are derived primarily from the interest we earn on loans and from fees on other services like crop insurance, leasing, and secondary market home loans. Patronage is voted on annually by our Board of Directors and is not guaranteed; however, we have been distributing patronage consecutively for over 30 years at an average of 25% of the interest earned. Whether a member has a small or large loan, they receive the same relative portion as all of the other shareholders. 
How to receive Patronage
If you borrowed money from AgSouth for your farm operation, equipment purchase, or land purchase, you are a stockholder in AgSouth and will receive a Patronage check in the mail. However, not all loans are eligible to receive Patronage. If you got a loan with one of our subsidiary businesses like AgSouth Mortgages or AgSouth Leasing, your loan product does not make you a member of AgSouth Farm Credit. If you have questions on your eligibility, please reach out to your loan officer or branch. 
Questions?
If you have questions about our Patronage program, please contact your loan officer or a local branch near you.