Coronavirus Update: Branches Remain Open with Limited On-Site Staff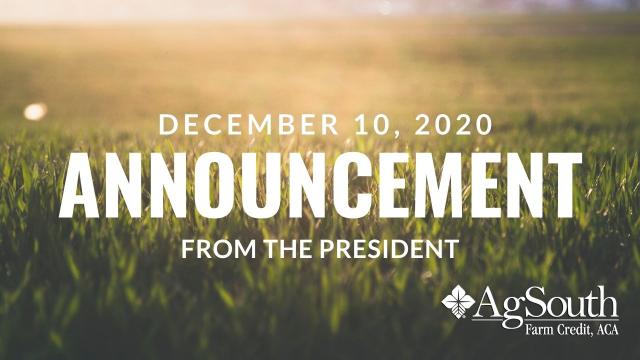 Statesboro, Ga (December 10, 2020): President and Chief Executive Officer, Pat Calhoun, addresses office staffing and branch operations, and assures that AgSouth will continue to be here for our customers and communities.
Branches remain open with limited on-site staff
As a valued member of our cooperative, we will keep you posted as our offices change to ensure the health and well-being of our staff and our customers.
Due to recent increases in COVID-19 cases in parts of our territory, we are reverting to our operating format successfully implemented earlier this year. Effective Friday, December 11, and until further notice, we will remain open, but with limited on-site staff.

We encourage you to make an appointment to visit with a loan officer. Please continue to contact us by phone or email, or utilize any of our available online services. AgSouth offers remote options that allow you to access your account:
AccountAccess – View and manage your accounts online.

AgSouth Mobile App – Manage your accounts with our mobile app. Download from the App Store.
We want you to feel safe if you need to visit your branch. If you need to come in to an office, we will have staff on-site to meet you. If you call and request, we will happily meet you in the parking lot for your convenience.

Our mission is to help agriculture and rural America in both good times and bad – this is no exception. We will continue to monitor updates from the Center for Disease Control and make adjustments as necessary.

If you have any questions, please don't hesitate to call your loan officer directly or 844.AGSOUTH at any time.
Thank you for your understanding and the continued opportunity to serve you.

Pat Calhoun
President and Chief Executive Officer