Home Builders: The Draw Process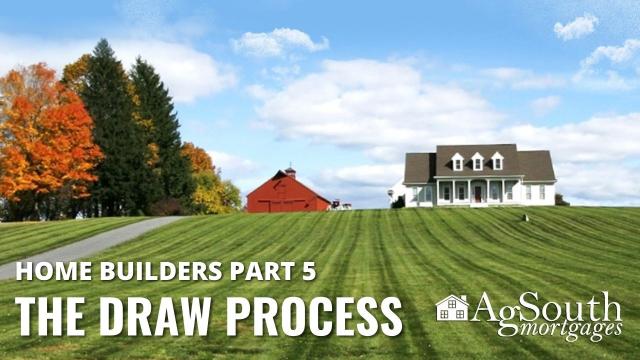 Home Builders and Contractors, we give you everything you need to know about the Draw Process with AgSouth.
*This article is featured in the Home Builders Association of South Carolina Newsletter.
The Draw Process 
In our last article, we discussed the Rural Home Construction Loan Overview which explained the benefits of loans for custom-built homes out in the country through AgSouth.

In this article, we're going to give you everything you need to know about the Draw process with AgSouth.
Draw Schedule
The draw schedule is a disbursement of loan funds to the builder. The borrower will make monthly interest-only payments to AgSouth until the home is complete and then we modify it from a construction loan to a mortgage loan.  

We use a percent complete draw schedule. We can even adjust our draw schedule to meet your needs better by adjusting certain percentages if a certain product is higher than the original percent.

Here is an example of an AgSouth Mortgages draw schedule. 
Draw Process
Understanding the draw process is crucial for the successful completion of a construction project. We want to make this process as easy as possible for both borrower and builder.
After closing, the loan processer will send an email to both borrower and builder.
We try to keep the draw process to 8 draws or less. The 1st draw can be without inspection and up to 4% to cover start-up expenses.
You, the builder, can then contact the loan processer to order inspections as needed. An appraiser will be sent out to the site, and an inspection report will be sent back to the loan processer to give credit for what is completed per the appraiser. We release funds by wire or check. The check can be mailed or picked up at the nearest branch location.
The builder must provide a Certificate of Occupancy before the final inspection can be ordered.
Flexibility
No matter how well you plan, unexpected things can come up. Have a delay? No problem. We'll work with you to accommodate minor changes to the draw schedule.
Clear Expectations
Our expertise and experience in explaining the workflow and procedures to your clients will enable them to know what to expect and understand how making changes or delaying decisions can affect the timeline.
 
Our next article will highlight a builder testimonial with AgSouth.
AgSouth Locations
We serve 34 counties in South Carolina and 59 counties in Georgia. If you have questions about our products and how they benefit you and your clients, our Loan Officers are happy to answer any questions you might have. To speak with a Loan Officer near you, please visit our locations page.