Land for Sale by Crosby Land Company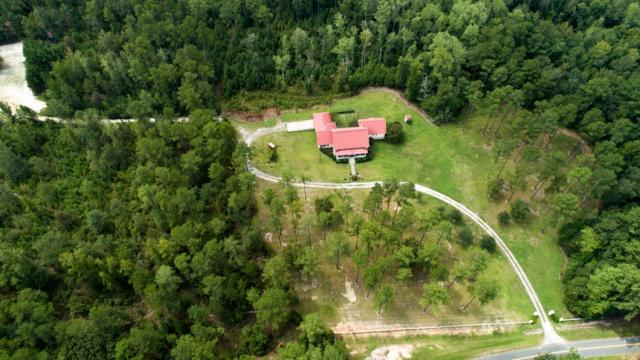 Don't miss out on these properties for sale in South Carolina by guest blogger, Crosby Land Company. Includes the perfect property for a weekend getaway or family home, and a high-end recreation property.
By: Crosby Land Company
Crosby Land Company, Inc. specializes in brokerage, land management, consultation, and advisory services for land assets throughout the Southeast. While brokerage is our main business, we are more than just brokers! We are landowners, conservationists, foresters, hunters and most of all, we are passionate about land. We possess a skill set that sets us apart from others and allows us to provide a higher, more qualified level of service to our clientele.
1. Combahee River Preserve in Hampton County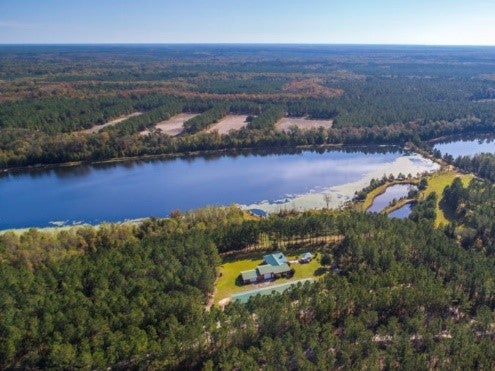 Combahee River Preserve, located in the ACE Basin of the South Carolina Low Country, is the model for high-end recreational properties. This 1382+/- acres offers outdoor enthusiasts pursuits of every type of winged fowl, large population of deer and turkey, fresh water fishing and kayaking along the Combahee River.  Located in Hampton County, just North of Yemassee, this is a diverse landscape consisting of mixed pine-hardwood forest of varying ages, 42 acres of fields/wildlife food plots, a 30-acre lake, 35 acres of controlled waterfowl impoundments and over 1.5 miles of river frontage along the Combahee River. As you enter the property through a well-appointed gated entrance, the oak lined avenue leads towards a prominent bluff overlooking the 30-acre main lake. The amenities include a 2000+sq ft. lodge with 3 bedrooms, 2 full baths and an open floor plan to accommodate large crowds for entertaining. In addition to the lodge, there is over 5000+sq ft. of covered space for maintenance and equipment storage. This high-end sporting property offers pursuits of waterfowl on the flooded impoundments, abundant deer and turkey populations, a trophy bass lake having produced bass in the 10-12lb range consistently, and upland pine forest suitable for quail hunting habitat.
2. Primbrook Tract in Orangeburg County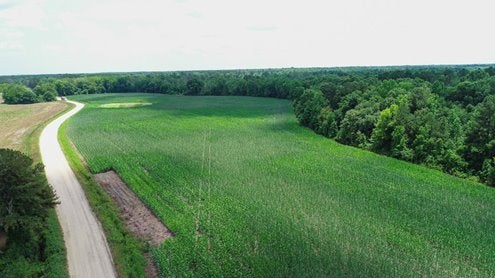 The Primbrook property is conveniently located only 5 miles off I-26 at exit 165 (Hwy 210, Bowman Exit), which allows for an easy commute from Columbia or Charleston for those weekend hunting trips and is surrounded by small farmers and timberland. The property offers frontage along Longbrook Drive and consists of 18 acres of open land currently being farmed. There are also multiple abandoned fields scattered throughout this tract, creating an ideal wildlife habitat for cover and forging grounds. Secluded at the back of the property is a 4 acre flooded cypress pond that has consistently produced a bountiful number of summer ducks for some sporty shooting adventures.
3. Camp Branch in Hampton County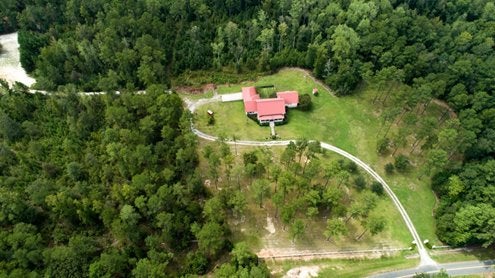 The Camp Branch offering is located between Varnville and Yemassee, in Hampton County, SC. The property offers ±107-acres of diverse, unspoiled forest, including ±28-acres of mature hardwood along Camp Branch and upland planted loblolly pine with several cleared wildlife openings throughout. The main feature is the 2009 custom built traditional southern style house located just off Stone and Patrick Road. The house is nestled on the hillside in a stand of mature pine, overlooks Camp Branch in the distance and was built as a permanent residence for the current owner. Great attention was given to craftsmanship, quality of the fixtures and other details. The living space includes ±3,500 square feet, four bedrooms, 2.5 baths, utility room, formal dining room, a large family room, a well-appointed kitchen complete with wine cooler and ice maker, two car off-set garage and many other features. This house is a must see, large enough for a comfortable full family residence but yet small enough for a week-end getaway with friends. The grounds are complete with a deep well that supplies the house and irrigation system. Electric service is provided by underground lines.
4. Black Creek in Colleton County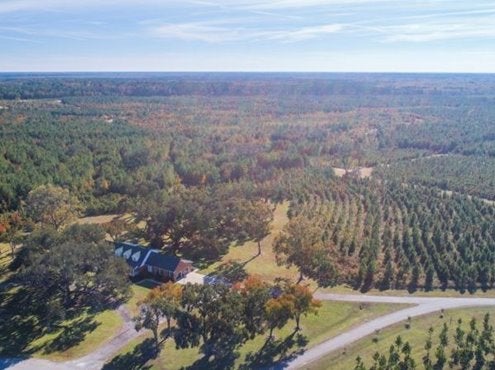 Black Creek is located in the "ACE Basin" of Colleton County, a short 1-hour commute from Charleston or 45 minutes from Bluffton/Hilton Head area. The property consists of a diverse landscape totaling over 865 acres of upland pine forest and bottomland hardwoods. As you enter the gated entrance and make your way down the oak lined avenue, you will notice the attention that was given to every detail. Black Creek boast a main house consisting of 4,407sqft nestled in a grove of majestic live oaks. This custom built home is complete with modern amenities and quality craftsmanship throughout. In addition to the main house there is a 2 bedroom/2 bath managers or guest house and a 3,000sqft enclosed shed complete with lighting and a bath room. The electrical is provided by underground service to minimize the aesthetic impact of overhead lines. Water is provided to all buildings and houses by two separate deep wells and as a fail-safe feature, the wells are interconnected. Access to the main house, managers and out buildings is provided by a 3/4 mile of paved driveway.
---
Interested in contributing to our blog?
Email info@AgSouthFC.com for more information!