Plan the Future of Your Farm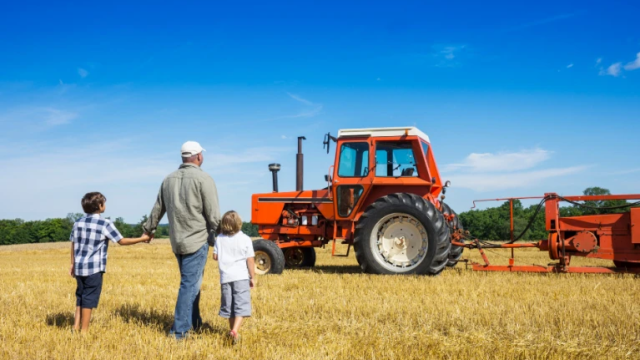 Most successful businesses have a succession plan. What is yours?
Two experts who have helped countless farm families navigate farm transitions share advice to help get you started. A successful farm transition or succession plan typically involves not only how the title to the land will be handled but also how to ensure the success of the agricultural operation when transferred from one generation to the next.
Dr. Alex White, a professor at Virginia Tech and a long-time instructor with Farm Credit University, and Professor Andrew Branan, faculty member at N.C. State University and an attorney with a focus on farm and land succession, both encourage farm families to set aside time to get the process started.
"Start as soon as you can," advises Dr. White. "The earlier you start talking about it, the more tools you will have available to you, the more help you will have available, and the more thought you can put into it. The longer you wait, the more you are giving up opportunities and losing the use of valuable tools."
Get Started
Get out and ride or walk your land. Think about yourself and the land, and your family and the land 10 years from now, advises Professor Branan. Recognize that changes will occur in both yourself physically and mentally, and in your family. Try to think over the horizon. Recognize age, aging and growth of families, careers and decline of careers, and things like that. It's difficult but it's the best way to accept that you are going to do the best you can with your eyes open.
Communicate with your family. If people don't communicate well, the transition planning process is going to be a nightmare, says Dr. White. It's not going to work. Dr. White says that it can be helpful for someone outside the family to help facilitate discussions. He has seen the use of the DISC personality profile tool as a way for family members to better understand their differences and to help set the groundwork for discussions. He recommends checking with your local Farm Credit office or Extension center for referrals to trained facilitators.
Gather necessary information. Each expert has authored helpful guides, linked below. Both have templates and timeline worksheets to guide you through the process. They cover what you need to get transition planning under way.
Pull together the critical information. This is what everyone needs to know if someone were to die or leave suddenly for some reason. Store in a secure location to protect sensitive information and make sure a trusted family member knows its whereabouts. Among important items:

Keys to various buildings and equipment
Passwords to various accounts and computer programs
Contact info for lender, attorney, accountant, insurance agent
Account or policy numbers for bank accounts, insurance policies, etc.
Will, power of attorney, medical directive
Deeds
Birth certificates, Social Security cards, passports, marriage license/divorce papers
Safe deposit box info and keys

Look at the ownership structure. List the owners and ownership percentages.
Complete a balance sheet. List assets and their worth, and who owns them.
Consider Overall Goals of Operation, Family
An important component of the entire transition planning process is to look at the overall goals of the operation and the goals of the family. "This can be one of the big sticking points because everyone is going to have slightly different goals or want different outcomes for the operation and for the family," says Dr. White. The key, he says, is to recognize this is a process. It will take time. Go into this recognizing it may take several meetings and a few months to get your plan in place.
Be Flexible
There are lots of creative approaches and tools that can help families set up a transition that is best for their circumstances and wishes. Professor Branan shares a few of those tools:
Revocable trusts. The person who owns the property is the one who sets up the trust and if circumstances change you have the flexibility to change it. The trust manages your assets and distributes to your heirs based on your instructions. Probate is avoided because the assets are owned by the trust.
Asset transfer agreements such as right of first refusal. This can be helpful to have in place when you have more than one heir and heirs who may wish to farm and others who wish to sell. Documents can be drawn up to specify that family members have the right of first refusal if any land is to be sold. This may be a good option when considering how to divide up property, to facilitate continued ownership by a family member who wants to farm while non-farm family members receive compensation for their share of the inheritance.
Consider a pathway to consolidation. "We don't have Century Farms by having six people own it indefinitely," says Andrew. "You can consolidate title over time, not dispossessing anybody of the value or their inheritance, but looking at reducing the number of people who own the land rather than expanding it. Legal planning and agreements help provide that pathway."
Review Plan Annually and Tap Helpful Resources
Both experts say this isn't a one-and-done type thing. Start the process by scheduling time to review and work through these resources:
Bookmark and review helpful articles on the Farm Law for Producers and Landowners page on the NC State Extension website.
"So You Inherited a Farm" is a new resource by Professor Branan about transfer and management of interests in farm and forest land.
Ask others for referrals to professionals who have helped them through this process.
When you get a plan in place, or if you already have one, review it annually or after any major life event.
"Kicking the can down the road is definitely not the way to go when it comes to transition planning," says Dr. White. "Do it to protect your family."
Written By: Leah Chester-Davis