AgSouth Announces Record Breaking Patronage Distribution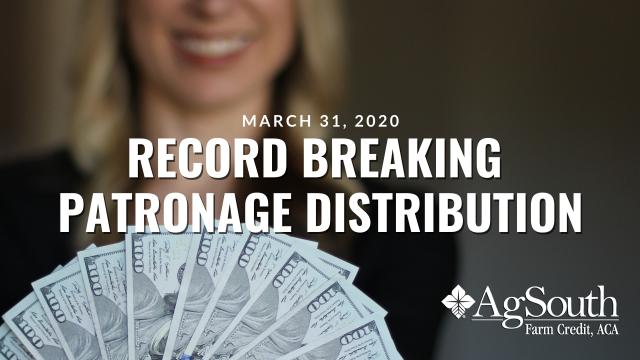 STATESBORO, Ga. (March 31, 2020) – AgSouth Farm Credit CEO Pat Calhoun announced that the customer-owned cooperative is distributing $39 million in profits from 2019 to its member-borrowers, the highest return in over 30 years of the Association's patronage distribution.
AgSouth Farm Credit Distributes $39 Million in Profits to Borrowers
This marks the Association's 32nd consecutive year of distributing patronage to its member-borrowers. Through its patronage program, AgSouth has returned over $550,000,000 since 1988.
"We are proud to reach a record-breaking year of distributing patronage to members of our cooperative, especially during these trying and uncertain times," Calhoun said. "We hope that these funds can provide some additional support for our members and rural communities."

"Stockholders will receive checks totaling $11.7 million (30 percent of the total distribution), with the remaining 70 percent, or $27.2 million, going into an allocated surplus account to be released at a later date at the discretion of the Board," said AgSouth CFO Bo Fennell.

In February, AgSouth distributed allocated surplus from 2014 in the amount of $21 million to its members, for a total cash distribution this year of $30 million. "We are proud of our record of serving our members and rural communities.  We are certain that this $30 million will find good use by our members in 2020's unprecedented operating environment" Calhoun added.
###
---
About AgSouth: AgSouth Farm Credit provides loans for land, equipment and production agriculture; crop insurance; leasing; and home mortgages. The Association serves 93 South Carolina and Georgia counties and is headquartered in Statesboro, Ga. AgSouth is an equal housing lender and an equal opportunity provider.