AgSouth Farm Credit Awards $25,000 in Grant Funds to Farmers Markets - 2019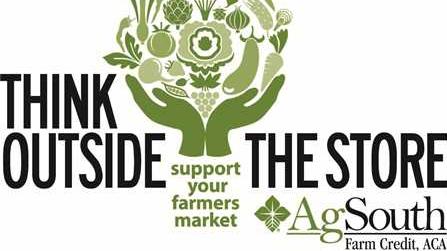 STATESBORO, GA – February 25, 2019 : AgSouth Farm Credit Marketing Director Christy Smith has released the names of the recipients of AgSouth's Think Outside the Store® farmers market grant. The Association is distributing $25,000 in grant funds to local markets throughout AgSouth's territory to use for advertising and promotion.
Fifty markets in AgSouth's territory in Georgia and South Carolina will receive $500 each in funds to promote their venues.
Georgia Grant Recipients:
Decatur Farmers Market - Atlanta
Grant Park Farmers Market - Atlanta
Peachtree Rd Farmers Market - Atlanta
Appling County Farmers Market - Baxley
Cotton Mill Farmers Market - Carrollton
Fairburn Farmers Market - Fairburn
Fairgrounds Farmers Market - Griffin
Wayne County Farmers Market Inc. - Jesup
Sims Pond Farms Farm Day Market - LaGrange
Lilburn Farmers Market - Lilburn
Henry County Farmers Market - McDonough
Monroe Farmers Market - Monroe
Market on the Square - Monticello
Coweta County Farmer's Market - Newnan
Norcross Community Market - Norcross
Peachtree City Farmers Market - Peachtree City
Forsyth Farmers' Market - Savannah
Statesboro Main St Farmers Market - Statesboro
Market on Maple - Sylvania
Oconee Farmers Market - Watkinsville
WayGreen Local Fare Market - Waycross

South Carolina Grant Recipients:
Aiken County Farmers Market - Aiken
City of Barnwell Farmers Market - Barnwell
Farmers Market of Bluffton - Bluffton
Kershaw County Farmers Market - Camden
Lowcountry Street Grocery - Charleston
Clemson Farmers Market for Pickens Co. - Clemson
Clemson Sandhill Farmers Market - Columbia
Edgefield Farmers Market - Edgefield
Foothills Heritage Market - Fair Play
Fountain Inn Farmers Market - Fountain Inn
Gaffney Station Farmers Market - Gaffney
TD Saturday Market - Greenville
Toasty Farmer - Greenville
Greenwood County Farmers Market - Greenwood
Greer Farmers Market - Greer
Johnston Farmers Market - Johnston
Landrum Farmers Market - Landrum
McCormick Farmers' Market - McCormick
Monks Corner Farmers Market - Monks Corner
Downtown Orangeburg Farmers Market - Orangeburg
Palmetto Farmers Market - Pelzer
Pumpkintown Mountain Market - Pickens
Ridge Spring Farmers Market - Ridge Spring
Old Town Farmers Market - Rock Hill
Hub City Farmers Market-Magnolia - Spartanburg
Summerville Farmers Market - Summerville
Traveler's Rest Farmers Market - Travelers Rest
Colleton Museum & Farmers Market - Walterboro
Fairfield Farmers and Artisans Market - Winnsboro
According to Smith, "As part of the eligibility to receive a grant, applicants had to provide a detailed marketing plan describing how they would use the grant funds to promote the market. We received many applications with some very creative marketing plans, and it was very hard for our selection committee to choose among the many excellent applications we received."
She explained that, "Many farmers get their start selling to local markets. Our grant program was designed to support these farmers by helping to create public awareness of how choosing to shop at your local farmers market benefits not only a community's health, but also its economy, much in the same way our own patronage program [the cooperative's profit sharing program] benefits not only our members, but the communities we serve."
---
AgSouth Farm Credit provides loans for land, equipment and production agriculture; crop insurance; leasing; and home mortgages. The association is headquartered in Statesboro, Ga.
For more information about AgSouth or this announcement, please contact Marketing Director Christy Smith at 912-764-9091 or email CSmith@AgSouthFC.com