AgSouth Sends Student Leader to Coop Council Conference
8/3/2022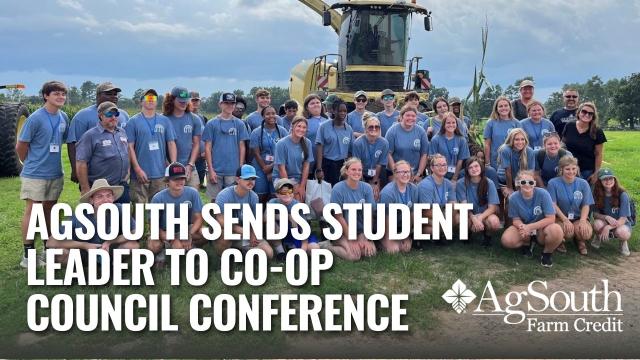 AgSouth Sends Student Leader to Coop Council Conference
STATESBORO, Ga (August 3, 2022) - AgSouth Farm Credit is pleased to have sent Jacob Carpenter from Tattnall County to the recent Georgia Cooperative Council Youth Leadership Conference. The conference, affectionately known as "Co-op Camp," is an engaging leadership and learning experience for students across the state of Georgia that highlights the impact of cooperatives on communities, what they do, and how youth can be a part of them.
The conference, held at the FFA/FCCLA Center July 18-22, promised the attendees a week of leadership, learning and laughter and gave them the opportunity to grow in areas of community leadership, problem-solving, relationship building and communication in a fun and relaxed environment.
Cooperatives from all over the state, including AgSouth Farm Credit sponsor the conference to provide a unique way for students to see what cooperatives do and why they are vital in their communities. Students not only learned about the different types of co-ops and their impact, but they also learned more about themselves and what it takes to be a leader.
New leadership skills were learned by putting them into practice while teaming up with peers and new friends. Interactive workshops for the teen participants helped them learn how to be better leaders through a personality profile session to understand how to better work with others and a leadership visioning exercise that focused on their goals.
One of this year's teens said, "At this camp, I challenge you to be ready to learn, make friends and find the leader in yourself!" Another commented, "If I could come back as a camper again next year, I wouldn't have to think twice about going."
Throughout the week students participated in encounter sessions with representatives from the Farm Credit Associations, Georgia EMC, Go Energy Credit Union, Pineland Telephone Cooperative and Adam Schwartz of The Cooperative Way. The presenters emphasized and gave examples of how their organization incorporates the Seven Cooperative Principles that all cooperative businesses follow: voluntary and open membership, democratic membership control, members' economic participation, autonomy and independence, education and training for members, cooperation between co-ops, and concern for local communities.
"It is so important to support and encourage leadership growth for the youth of our communities. This week-long conference brings the seven cooperative principles to life for these teenagers while fostering leadership and soft skills in a fun environment," says Christy Smith, Director of Marketing of AgSouth Farm Credit.
In addition to activities onsite at the Georgia FFA/FCCLA Center, the group also went on a field trip to two cooperatives, Walton EMC and Godfrey Dairy, to see firsthand what they had been learning about. And while leading and learning took place throughout the week, fun and games were an important part of camp as well. A challenging high-ropes course, mud course, and team building activities brought students together and helped them build meaningful friendships that made the goodbyes at the end of the week so hard. As one student commented, "Meeting new friends and being able to attend this wonderful camp has been absolutely amazing! I enjoyed everything so much."
AgSouth Farm Credit is an agricultural lending cooperative owned by its borrowers that provides loans for farms, land, equipment and homes. Crop insurance and leasing services are also available.
The Georgia Cooperative Council is a statewide, nonprofit cooperative association whose membership is composed of financial, electric, telephone, marketing and service cooperatives. The objective of the Council is to promote and encourage all types of cooperative associations in the state and to educate the public about the cooperative way of business.
###