Coronavirus Update: We Continue to be Available to You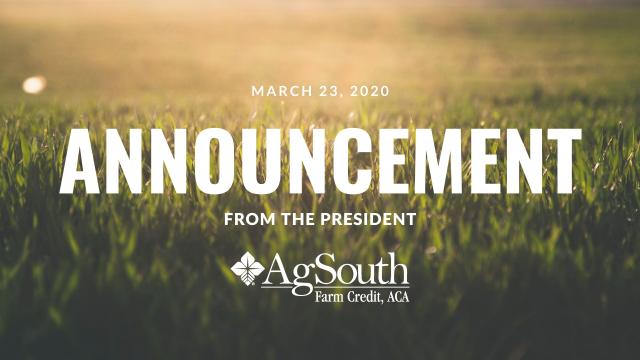 Statesboro, Ga. (March 23, 2020): President and Chief Executive Officer, Pat Calhoun, addresses concerns surrounding the coronavirus and branch operations, and assures that AgSouth will continue to be here for our customers and communities.
We Continue to be Available to You

Statesboro, Ga. (March 23, 2020)

To our valued member-borrowers and friends,

In response to the new coronavirus (COVID-19), AgSouth Farm Credit would like to take this opportunity to inform you of the steps we're taking to keep our member-borrowers and employees safe and our systems and services running.

We have implemented our Business Continuity Plan which allows AgSouth to continue operations during adverse or challenging circumstances. Our ultimate goal is to ensure that we have a dynamic and appropriate response to the risks associated with this virus.

While the following is not a comprehensive list, our plan calls for:
Increasing our supplies of disinfectant products and implementing enhanced sanitizing and cleaning protocols at all of our branch locations.
Keeping our products and services fully available to you.
Limiting business-related employee travel until further notice and using teleconference capabilities instead.
Modifying, postponing or canceling large meetings.
Enhancing our risk monitoring and management protocols.
Additionally, we have implemented a remote working strategy which allows many of our employees to work from home or at an alternative remote location. This helps protect our staff and our customers by limiting the number of people present in our office locations. We continue to be available to you. Please call your branch office, loan officer or 844-AGSOUTH to let us know your preference for conducting business and we will do our best to help meet your needs. Our office locations will also have signage posted regarding any necessary restrictions on access.

During this time of stress and uncertainty, we want to make sure you have access to all the financial services we offer. Be assured that you can access your accounts and services without needing to visit a branch by using our online banking platform, Account Access, or by calling us at 844.AGSOUTH for assistance.

You can find the latest information on the coronavirus and how to limit your risk of infection by calling the CDC hotline at 1-800-232-4636 or by visiting the CDC Coronavirus Website.

As always, our highest priorities are the health and safety of our member-borrowers and employees, as well as the communities we serve. If there's anything that we can do to assist you, please don't hesitate to reach out to your loan officer.

Thank you for the opportunity to serve you. Remember: We're in this together.

Pat Calhoun
President and Chief Executive Officer