Farm Credit Associations Lead Support of Legislation to Prevent Overtaxing of Family-Owned Farms
Legislation drafted by a workgroup headed by AgSouth Farm Credit's Christian Taylor and sponsored by Senator Tyler Harper (R-GA-007), Georgia HB 290, passed the Georgia Senate 51-0 on March 24 and was subsequently signed into law by Governor Nathan Deal.
Taylor states that the new law, "will prevent counties from wrongfully billing our family-owned farms." According to Taylor, a leasing specialist with AgSouth Farm Credit, the Equipment Leasing and Financing Association (ELFA) group – comprised of representatives from AgSouth Farm Credit, AgGeorgia Farm Credit, Southwest Georgia Farm Credit (the Georgia Farm Credit Associations), Farm Credit Leasing, Co-Bank, and John Deere – worked closely with Ga. Rep. Sam Watson (R-Moultrie), a member of the House Agriculture & Consumer Affairs Committee, for several years to develop the legislation. The group was instrumental in obtaining the critical support of the influential Georgia Association of Manufacturers and its president, Roy Bowen.
This measure addresses a personal property tax dilemma that has faced Georgia's family-owned farms for more than 10 years, namely, inconsistent application, by both local assessors and state auditors, of the personal property tax exemption for equipment with a lease-purchase agreement under § 48-5-41.1(c), which was passed in 2007. The ELFA-backed legislation provides for consistent treatment across the state and ensures that certain farm equipment owned or leased by family farmers in Georgia will be exempt from property tax as intended by O.C.G.A. § 48-5-41.1.

The Georgia Farm Credit Associations and Co-Bank are part of the nationwide Farm Credit System, which has been providing financing and other support to farmers and rural America since 1916. The associations are customer-owned cooperative lending institutions that provide loans for land, equipment, homes, and production agriculture and also offer crop insurance and leasing.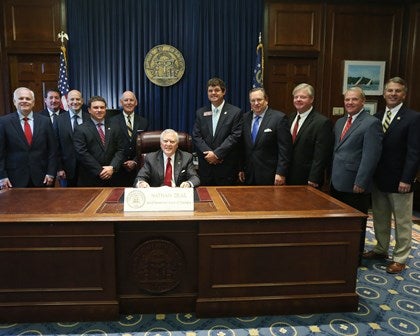 Photo Identification from Left to Right:
Marty Moore, COO AgGeorgia Farm Credit; Pat Brown, John Deere – Augusta; Greg Van Bladel, John Deere – Augusta; Senator Tyler Harper; Roy Bowen, President and CEO of the Georgia Association of Manufacturers; Georgia Governor Nathan Deal; Representative Sam Watson; Scott Riehl, VP State Government Relations, The Equipment Leasing and Finance Association (ELFA); Christian Taylor, Leasing Specialist AgSouth Farm Credit; Theron Anderson, EVP AgSouth Farm Credit; Bryan Tolar, President of the Georgia Agribusiness Council