Sampson Parker's Epic Survival Story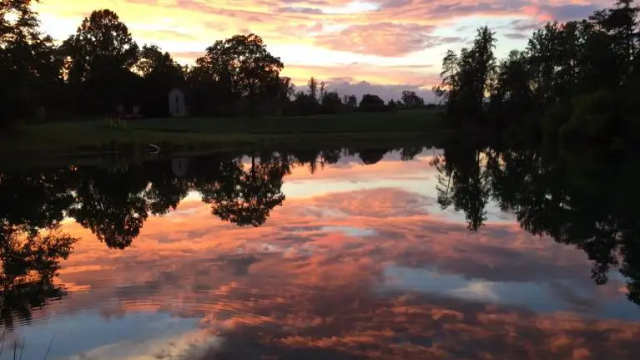 After having to cut off his arm to free himself from a corn picker that had caught fire, Sampson Parker managed to get to his truck and drive to the nearest highway to summon help. Having to pull his truck into the middle of the highway, he told God he'd done everything he could and it was in God's hands now.
The two people who stopped to help were a first responder and a nurse. Sampson was airlifted to a hospital in Columbia. Before his wife and son could arrive, he was flown to the Joseph M. Still Burn Center in Augusta, Georgia. Sampson had suffered third degree burns on the back of his left hand and fingers, and fourth degree burns on his right leg and what remained of his right arm. He was in critical condition.
Sampson ended up having six surgeries and experienced a critical blood infection. He was at the Burn Center in Augusta for three weeks. The treatment was agonizing. When he finally got to return home, he credits his wife, Lee Ann, for nursing him on his difficult road to recovery. Amazingly, after six weeks at home, he was back to work on the highway construction job on Interstate 85 in Rowan County by Thanksgiving of that year.
Epic Survival Story Makes International News
On Thanksgiving Day of 2007, the Camden, South Carolina, newspaper where Sampson's mother-in-law worked ran a front page article about Sampson's story. The Today Show with Matt Lauer picked up the story and interviewed Sampson on his farm the Monday after Thanksgiving. "The really good thing was the first time the Today Show interviewed me they had Doug Spinks (one of his rescuers) out at the farm with me and he was part of the story too." Later, the Today Show flew Sampson and Lee Ann to New York for another interview after they made the list for the Top 10 stories of the year (they were number 3 in 2007).
After the initial Today Show interview, numerous media requests rolled in. Sampson did interviews with every major network and cable station both in this country and numerous other countries. Story House Productions in Germany, Sunrise Australia, and the BBC (British Broadcasting Corporation) are a few he remembers. Sampson figures he has done anywhere from 30 to 40 radio interviews and was expecting to do another one with a Dallas, Texas, station recently.
He's also recently been interviewed by the Farm Journal, which says, "In the annals of survival history, Sampson Parker's ordeal at the brink of death ranks as an epic account of phenomenal will, tenacity and faith."
Every day is a day for giving thanks for Sampson and Lee Ann, and Thanksgiving Day in November is always extra special. Every year, they invite Doug Spinks and Karen Baker to join them. "They are very special to us," Sampson says.
Sampson's Inspirational and Cautionary Messages
He now speaks to groups about his experience. While farm or construction groups may get an extra dose of the importance of safety precautions, they, along with church groups will hear Sampson's story about how he believes God was with him in his darkest hours. The experience has changed him. "Like any other supervisor in construction, I was pretty hardnosed. I had an it's my way or the highway attitude. I look at things differently now. It's not about me; it's about other people. I've changed a lot on safety. I went through the motions. I took it for granted not knowing how fast or quick an accident can happen. It's the little things that will get you. It's not the big things; the big things we take the time and we go over and prepare for but it's the little things that will get you.
"Farmers don't need to be in a big hurry. If they see that something is going to be unsafe, step back and take three seconds and think about being safe and what is going to happen if I do this. Think about how you can do it differently. And always carry a cell phone."
Sampson shares his story for other people. "If one person or two hear my story and it helps them think about being safe, that's what it's all about, trying to help somebody."
Sampson and Lee Ann Parker's Book, "Unthinkable Choice"
Just as Sampson has quite a story, so too does Lee Ann. They ended up writing a book which has a back and forth format that shares what was going on with each of them during the ordeal. Despite everything he went through, Sampson says it's Lee Ann's part that gets to him. "I know my part but when you get to her part, her part just tears me up," he says.
The book, "Unthinkable Choice" is available at www.sampsonparker.com. It recounts his experience, including a sequence of events that he believes clearly demonstrates God was with him. The book also includes his story about the first time back at the farm after the accident and making peace with the corn picker, "which was a big deal," he says. "I knew I had to go out there but it was not pretty. The first time I heard one run (after the accident) it made me sick to my stomach."
But Sampson loves farming and he bought another corn picker and continues to grow, harvest, and sell corn. Every morning before he leaves his home, he passes by a shadow box in his kitchen that displays the knife he happened to have in his pocket that fateful day. To Sampson, it is a daily reminder of God's grace.