Shannon Parrish Joins AgSouth as Loan Officer in Douglas, Georgia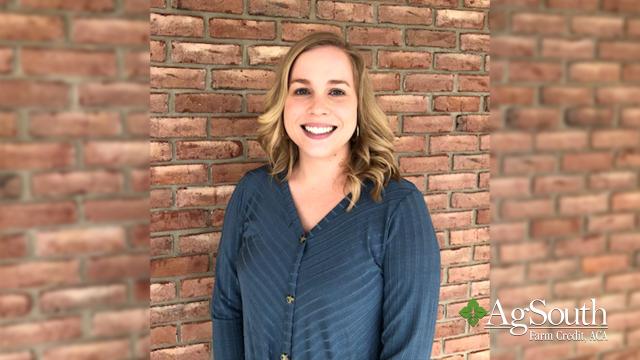 Douglas, Ga. (February 24, 2020): AgSouth Farm Credit Regional Business Development Manager Stacy Nobles announced that Shannon Parrish has joined the company as a loan officer in the Douglas, Georgia, office.
Parrish grew up helping out on her grandfather's row crop farm in Berrien County, Georgia. She obtained her degree in agribusiness and her masters of science in crop and soil science from the University of Georgia.

Prior to joining AgSouth, Parrish worked with the American Peanut Councils' Sustainability Task Force and their Sustainability Core Committee. She also worked as a research professional for the University of Georgia.

She is a member of the Jeff Davis Kiwanis Organization and the Coffee County Board of REALTORS®.

According to Nobles, "Coffee County and the counties surrounding it are heavily dependent on a strong ag economy. Shannon's hands-on experience in agriculture and education has already proven to be a huge asset in helping our existing customers with their financial needs and growing our loan portfolio in this area. We're happy to welcome Shannon to our lending team."

###
---
About AgSouth: AgSouth Farm Credit provides loans for land, equipment and production agriculture; crop insurance; leasing; and home mortgages. The association serves 93 South Carolina and Georgia counties and is headquartered in Statesboro, Ga. AgSouth is an equal housing lender and an equal opportunity provider.